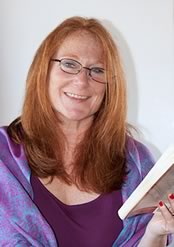 Dr. Deah Schwartz has more than 20 years experience using therapeutic arts, music, drama and recreation activities in a variety of clinical and educational settings with clients ranging in age from 5 to 80+.
Read this inspiring interview about Dr. Deah and her new book Calmanac!
She has a Doctorate in Education, a BA in Theater, an MS in Therapeutic Recreation, and an MA in Creative Arts Education and is a Nationally Certified Recreation Therapist. In addition, Dr. Schwartz studied Art Therapy at the College of Notre Dame, in Belmont California for two years and taught Expressive Arts and Recreation Therapy at San Francisco State University for ten years.
This background, coupled with her fervent belief in size acceptance, has resulted in co-authoring the "Leftovers Workbook/DVD set," a unique expressive arts therapy curriculum for therapists and educators training therapists in the fields of eating disorders and body dissatisfaction. Deah also has a blog, called, Tasty Morsels, that promotes size acceptance and Health at Every Size®.
Website: http://www.drdeah.com – Dr. Deah's book is also available here.
E-mail: drdeah@drdeah.com
Twitter: @Dr_Deah
Google+ Dr. Deah Schwartz
Recent Posts by Dr. Deah: