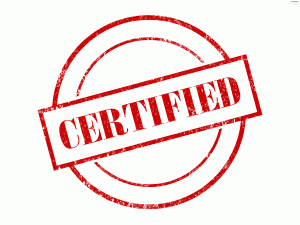 Art therapy is an expanding field that is gaining more acceptance as a form of psychotherapy. With roots in both psychology and art, it is now governed by its own national and international associations. Professional art therapists are master's level practitioners who don't necessarily need certification to practice in the field. However, new art therapists may be required to obtain a state license. To become a Board Certified art therapist in the United States, one must be certified through the Art Therapy Credentials Board. Many other countries have their own certification processes as well. Certification has its advantages and can allow for more career opportunities, as well as providing a clear structure of principles and ethics to guide the practice. Read some of our articles about art therapy education (such as requirements and career advice) for more info.
Art Therapy Certification in the United States
A U.S. based art therapist can begin with the entry level credentials through the Art Therapy Credentials Board. The first tier is a registered art therapist, or ATR. This requires the successful completion of a graduate-level education in art therapy from an accredited university, practicum and internship experience, and documented, supervised post-graduate clinical experience. Once recognized as an ATR, individuals can apply for Board Certification, or an ATR-BC. For certification, the registered art therapist must pass a nationwide exam that focuses on the theories and clinical skills associated with art therapy. Art therapists outside of the United States who wish to apply for Board Certification must complete an equivalency review for each of their courses. The review must be conducted by an Art Therapy Credentials Board-approved reviewing organization. Art therapists who possess skills and training in supervision have the option of applying to become an Art Therapy Certified Supervisor, of ATCS.
Obtaining certification requires dedication and a substantial amount of coursework and clinical experience. While certification is not always required to become a professional art therapist, the minimum requirement is a master's degree in art therapy or counseling and related fields with a focus on art therapy. The American Art Therapy Association (AATA) states that while attending a master's program, individuals must study and complete studio art in a variety of mediums to demonstrate artistic competency. An Online college may suffice for this, but check and see if the art therapy college or program of your choice is credentialed. Students must also take a minimum of 48 graduate semester credits, including courses in psychology and abnormal psychology, and successfully participate in supervised practicums and internships.
Upon graduation, students are required to complete 1,000 hours of direct client contact in order to apply for an ATR, or registered art therapist certification. Upon obtaining an ATR, the Art Therapy Credentials Board allows individuals to apply for Board Certification. Board Certification is contingent on passing an examination. Exams are held once per year at the Art Therapy Credentials Board's annual conference and simultaneously in four other U.S. cities. However, options exist to accommodate special circumstances. Licensing varies by state and some art therapists are licensed but not nationally certified. In some states individuals can become licensed as art therapists, creative arts therapistr mental health counselors. Individuals contact their state licensing board for the specific criteria.
Additional Resources for Future Art Therapists
You might find the following links useful if you are interested in becoming an art therapist or are working towards being one soon:
International Art Therapy Certification
Since art therapy is a relatively new field, many countries don't regulate the practice. Art therapists must contact their country's governmental or regulatory boards that monitor mental health practices to find out about the certification process. Global associations, such as the International Association for Art, Creativity and Therapy (http://www.igkgt-iaact.com/), exist to serve as a way to guide and structure the field of art therapy on a worldwide basis. Various countries have associations and boards to certify art therapists, such as The Art Therapists Society of Thailand, The Hong Kong Association of Art Therapists, The Swedish National Association for Art Therapists, The European Consortium for Arts Therapies Educators, and The British Association of Art Therapists. India and most countries in Africa do not require certification, but do have organizations to promote art therapy and allow professionals to connect with one another.
As art therapy garners more attention, the number of worldwide certification programs will likely increase. While one doesn't need a certification to become a professional art therapist in the United States, state licensure is often required. A national certification from the Art Therapy Credentials Board can result in more art therapist job opportunities and allow one to work nationwide. Continuing education courses are abundant, making it convenient to maintain this certification. A Board Certification reinforces to employers that an individual has completed all of the steps in order to practice effective art therapy.
**This is a user-contributed article by Justin Birch.