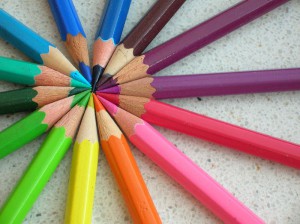 Thinking about becoming an art therapist? First, make sure you understand what art therapy is. We use the term "art therapy" more loosely on this site than some other sites, but we also have a different mission and like the play on words. If you're familiar with art therapy as a career and are seriously considering becoming an art therapist, then here are some good general guidelines to becoming one.
Self Assessment
Before you go down the path of becoming an art therapist (becoming educated, trained, licensed, certified and registered), it's important to understand the demands of the profession and to consider whether you are not only capable of meeting those demands, but that you are also likely to enjoy being an art therapist. As an art therapist, you may or may not be lucky enough to pick which age group you work with. This age group can range anywhere from kids to seniors.
Since this is a therapy-related profession, it helps to have most or all of these qualities: good listener, empathetic, patience, communication skills, understanding of art and creative media. Ultimately, it's best if you are passionate about helping people through creativity.
Location Matters
It's important to understand the standards and requirements for your particular region. For example, some countries do not identify an "art therapist" as a true profession, and therefore have no regulation around it. So, guess what? It's pretty easy to call yourself an art therapist and therefore work as one. However, as examples, in the United States and the United Kingdom, these standards and requirements are dictated by the American Art Therapy Association and British Association of Art Therapists, respectively.
Education
An art therapy education is the first big step in becoming an art therapist. In countires where the art therapist profession is regulated, you are almost certainly going to need a Master's Degree from an accredited school offering an art therapy program. Check with your local/national art therapy organization for the most current list of accredited schools. It's probably also ideal, and may even be required, for you to participate in an art therapy internship. Not only will this help you gain some experience, but interning in different settings is likely to help you decide with whome and where you might like to work.
Tip: It's also a good idea to check with your local art therapy organization for any potential grants and/or scholarships.
Art Therapist Certification & Licensing
Art therapy is still pretty young as a profession, so it's important to check with your local art therapy organization for proper certification & requirements. Not all locations require certification to legally practice art therapy, so it's beneficial to understand exactly what these requirements are. In the U.S., the Art Therapy Certifications Board (ATCB) is a good place to start. Even if it's not required, it's usually a good idea to be come registered and board certified (ATR-BC).
Searching for Art Therapist Jobs
There are various places online to find art therapist jobs and related jobs that use art as therapy. The more places you search and apply, the better your chances. If location is vital, then you can typically narrow your search to where you'd like to work. It's important to remember that some areas will have more opportunities than others, some will have more competition, etc.
It's also important to realize that an art therapist's salary may not be what you'd like it to be. This is another reason to understand the importance of loving what you do. Stay tuned for more information and, if you're an art therapist, leave your suggestions in the comments below. You can also see what Featured Artist / Art Therapist Sara Roizen had to say about becoming an art therapist.