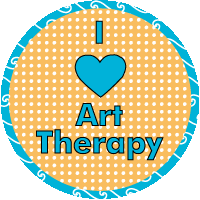 Are you passionate about art, art therapy and/or the creative nature that lives in us? If so, now you can let other people know with a badge. We plan on adding more in the future, but hope you like what we have so far. If you have an idea for a badge or would like to create and submit one, you can email us at arttherapyblog (at) gmail (dot) com.
"I (heart) Art Therapy" Badges
We hope you enjoy the selection for now, but we do plan to add more badges. And don't forget, you can submit a suggestion or your very own badge!