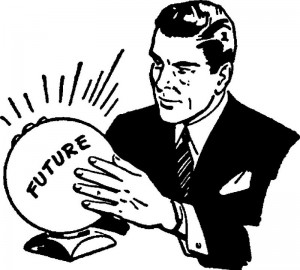 The following art therapy idea/activity is called Crystal Ball and is by contributing guest author Dr. Deah Schwartz. Once a month, Dr. Schwartz shares an art therapy idea to facilitate exploration, increased awareness and healing in the areas of body dissatisfaction and disordered eating. Some of these directives may need to be facilitated over more than one session, or modified for different ability levels, size of group, budget and size of work space. Learn more about eating disorder therapy.
Title: Crystal Ball
Materials: Drawing paper, markers, pencils
Guidelines:
Ask the client(s) to draw a large circle on their paper.
Explain that they are using a crystal ball to look into the future of the next three months.
Ask them to draw at least one but no more than three changes in their routine that will occur over the summer and identify the feelings they predict will be generated from those changes.
When the drawing is complete, discuss with the client/group healthy versus habitual ways to manage the feelings that they are predicting they will feel.
If this is an Expressive Arts Therapy group, act out some of the scenarios described in their crystal ball drawings and role play healthy ways to manage the anxiety and stress that these changes of routine generate.
Why Do This: Why not? (Just kidding) Frequently one of the underlying issues of disordered eating has to do with control. Transitions can be a trigger for stress which often results in an increase in disordered eating and or negative thoughts about one's body. Predicting the challenges and identifying healthy coping strategies helps to regain a sense of control over the situation.