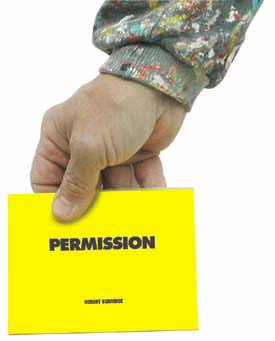 The following art therapy exercise is by contributing guest author Dr. Deah Schwartz. If you like this activity, stay tuned for more art therapy exercises from Dr. Schwartz in the future as she explores ways to help people with body image issues through her own variety of eating disorder therapy.
Permission Slips Art Therapy Directive
Materials: Lined paper, unlined drawing paper, pencils, markers, collage materials, glue sticks
How To:
Have your clients sit quietly and identify one negative or challenging expectation that they will face during the upcoming holiday season. This can be about food, body image, pleasing a relative, gift giving, etc. It can be a scenario that they have already lived through or one they predict will arise in the upcoming weeks.
Ask them to write down the scenario in as much detail as possible. Make sure the scenario contains a beginning middle and end of the event, a list of the people involved, and location or locations of the event.
Have each person identify one point in the scenario where having permission to do or say something differently may have resulted in a positive change to the scenario and on a separate piece of paper, write down the new version.
Using the art supplies available, have each client create a personal permission slip. This can take any form they want as long as there is a line for a signature. If they feel they need the therapist's o.k. make sure there is a line at the bottom for both signatures.
In the group circle have clients share their permission slips and how the permission altered the situation. Identify the similar areas where permission was granted. Then have them sign them.
Using drama therapy techniques, have clients help each other act out the predicted event with the permission granted endings.
Why: As we discussed above in the Therapeutic Tidbit section, the holiday season is frequently about pleasing others and grappling with the enormous pressure to conform to societal standards around food, appearance, and expressions of love. Suppressing feelings can trigger disordered eating and the holiday stress can result in falling back on default modes of self hate and feelings of not being good enough. By identifying and predicting some events and problem solving with the Permission Slip Strategy, when a person finds herself in these situations in real life it will be with increased awareness and a stronger internal support mechanism. Working on scenarios like these in a group also reveals how many people are grappling with similar feelings. This decreases isolation and offers an external support system to draw on as well.
Photo credit: Robert Burridge