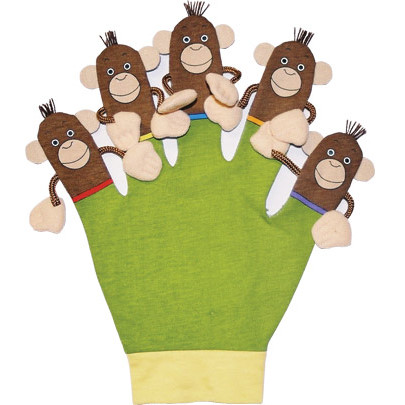 The following art activity for making hand and glove puppets for kids or groups is by contributing guest author Dr. Deah Schwartz. Every month, Dr. Schwartz shares an art therapy exercise to facilitate exploration, increased awareness and healing in the areas of body dissatisfaction and disordered eating. Some of these directives may need to be facilitated over more than one session, or modified for different ability levels, size of group, budget and size of work space. Learn more about eating disorder therapy.
All You Need is (G)LOVE!
Materials: White paper, pencils, gloves (no need to be matched pairs. Wool or cotton is preferable and can be found for very little money at Salvation Army Stores, or for free in lost and found boxes in schools and hospitals). BE AWARE OF ANY ALLERGIES in the group or among the kids and have options available e.g. rubber or latex gloves. Assorted fabrics, needles and thread or fabric glue, yarn, buttons, sense of humor, fabric markers.
How To Make Hand/Glove Puppets for Kids or Groups:
Similar to the paper bag puppets we discussed many months ago, hand and glove puppets are not a new directive in art therapy, but rarely are they used in this treatment area. Because the metaphor of the hand can be interpreted in so many ways as it relates to food, love, self-soothing, holding on and letting go, the possibilities for using glove puppets are limitless. Here are a few suggestions, but as always, when you combine your imagination with the treatment objectives for your clients, the sky is the limit.
1. Decide what you would like the focus of the group to be. For example:
When you reach for something to eat, other than the food, what else may you be reaching for?
What are some positive things in your life you would like to hold on to?
What new experiences or feelings would you like to grab on to?
Who or what positive influences do you want to keep "handy" in your life?
2. Have each person trace their hand on a piece of paper and plan out what they would like their g(love) puppet to look like. It is important that the participants know ahead of time what materials are available so they can plan realistically. If you have clients with poor impulse control, show them the materials before they start drawing, but keep them out of reach. For others you can have them on display. Some people will make a full glove puppet while others will make each finger represent something different. There is no right or wrong choice!
3. Once the puppet is designed, each person receives one glove and the materials they need to create the three dimensional version of their sketch. The diversity of finished products is always wonderful to see. For example, some clients may decorate each finger as an aspect that contributes to their emotional eating and in the palm of the glove is a symbol of what they can do to fulfill their needs differently.
4. When everyone is finished, or with enough time remaining in the session, ask the group to come back together in the circle to share their work. If someone hasn't finished yet, they can show their sketch and finish the puppet when there is time.
5. If your group is an expressive arts therapy group and not strictly an art therapy group, once the puppets are created, groups can be formed, scripts created and puppet shows can begin!
Why Making Hand or Glove Puppets is Useful for Kids, Teens or Adults:
Punch and Judy, Soupy Sales, Glovey in Yellow Submarine and Sesame Street characters are just a few examples of how hand puppets have been used in delightful ways to convey all kinds of messages. Pledges often involve placing one's hand over their heart, and the expression, "my heart is in my hand" professes open and authentic love to another person. Unless we have lost the use of our hands as a result of a disability, we typically use them to soothe a loved one or to reach for food. Hands can be a useful metaphor in this arena.
For a holiday that is supposed to be about love, Valentine's Day often has the paradoxical effect of people feeling unloved and unlovable especially if they are suffering from negative body image. This activity helps to explore the importance of self-love over the damaging negative critical voice that may have been internalized. Another important distinction to make is that self-love is not synonymous with narcissism or selfishness. Many people have a difficult time with this distinction and therefore don't feel they are allowed to love themselves.