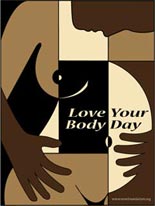 by Dr. Deah Schwartz
A predictable issue in October is the seasonal change and the obvious shortening of the days. The fall equinox arrives and there is less daylight. Frequently this means less outdoor time and a decrease in physical activity for kids and adults. Even for those who are not diagnosed with Seasonal Affective Disorder may find a change in mood with a change in the weather and a tendency to relapse into disordered eating patterns.
This is the perfect time to revisit the Health at Every Size(R) Tenets!
Find pleasurable indoor physical activities that you can engage in that are NOT weight loss motivated.
Stay in tune with your mindful eating and listen to your internal cues of hunger, appetite and satiety.
DO NOT JUDGE yourself if you are "under the weather." It is normal for people to want to slow down during the darker hours.
And remember the third Wednesday of the month is Annual Love Your Body Day. Try to give yourself permission to honor and appreciate your body at least one day this month, if not more! Here is one way to do that…

Objective:
In honor of Annual LOVE YOUR BODY DAY, (The third Wed. of October) it is a good time to recognize what your body contributes to your quality of life instead of how you perceive that it limits your pleasure.
Materials:
Writing paper, drawing paper, markers, glue sticks, scissors, collage materials.
Instructions:
On a piece of paper write down a list of the things in your life that you really LOVE doing. Don't be shy; no one is going to read this list.
Once your list is complete, read the items and see how many of those items can only be done with YOUR BODY as part of the experience.
Choose at least one item and using your art supplies make a love letter to your body thanking "it" (you) for allowing you to engage in the experiences that you love and that enrich your life.
This expressive arts idea is from contributing guest author Dr. Deah Schwartz. Once a month, Dr. Schwartz shares an art therapy activity or idea to facilitate exploration, increased awareness and healing in the areas of body image and eating disorders.
Drawing by: Crystal Holiday, 2004