Therapeutic Tid Bit of the Month: You are Amayzing!
This month you MAY notice the media gearing up trying to convince you how unamazing you are. It is their job to be certain that we dislike ourselves enough to spend the next month buying products and programs to drastically change our bodies in time for summer. Navigating through this maze of negative messages can be difficult and often we feel trapped and despairing as we keep bumping up against the obstacles that all seem to lead to the erroneous message that weight loss will fix everything that is wrong with our lives.
Well guess what? All paths lead to one place and that is YOU being amazing just as you are right now! This is a time to consider turning off the commercials, putting aside triggering magazines, reading size positive blogs, and visiting some Facebook sites that promote body acceptance.
About Face, Adios Barbie, and The Body Positive are great places to start. You can find more suggestions on the resource page of my website as well. Find support and find your strength as you focus on what makes YOU amazing right now!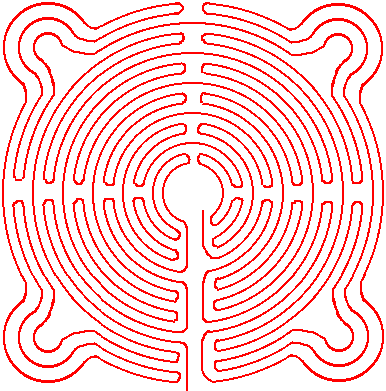 Title: You are Amazing!
Objective: To identify strengths that are part of who you are right now that are not associated with weight related goals. To explore support systems to reinforce a weight neutral positive sense of self.
Materials: Paper, pencils, colored markers
How to:
Take a moment and think about some ways that your body is supporting you right now, in this moment. What are some positive aspects of your body? What are some positive aspects of your character, personality, what makes you amazing? If you are having difficulty with this, imagine how someone you love would answer this question.
On your paper, with a pencil, draw a shape in the middle and label it with the word, "me" and write down some of the strengths and positive characteristics you identified in step one.
Now draw a maze around the circle (see sample of Chartres Maze above). Choose any configuration you want, it does not have to be a circle. Remember to have several possible routes and be sure that all of the routes in the maze ultimately lead to the center space no matter how complex the routes are.
Next, identify obstacles along the way e.g. ads, magazines, peer pressure, anything you can predict MAY attempt to steer you off of your path to your true center. You can, if you'd like, color code the obstacles so they are easy to spot.
And now identify what support systems are available to you along the way and place them in various places on the maze. Feel free to color code these as well. If you are having difficulty thinking of any, take time to do an internet search on body positive resources. (There is a list of them on my website as well.)
When your maze is complete take some time and navigate the maze taking time to appreciate how despite the obstacles the ultimate result leads back to you with your strengths and support systems.
If you are doing this activity in a group, participants can try to naviagate each other's mazes and compare the similarities of obstacles and support systems.
This expressive arts directive is from contributing author Dr. Deah Schwartz. Once a month, Dr. Schwartz shares a therapeutic art therapy activity or idea to facilitate exploration, increased awareness and healing in the areas of body dissatisfaction and eating disorders. Some of these activities may need to be facilitated over more than one session, or modified for different ability levels, size of group, budget and size of work space. These directives may be used in individual or group therapy sessions or as self-help activities. Sometimes the activity itself is nothing new or brilliant but the OBJECTIVE of the directive is unique and specifically tailored to exploring issues related to body image and disordered eating. ENJOY! Fun is the main ingredient! You can learn more about eating disorder therapy here.