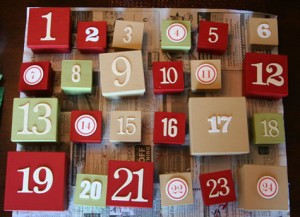 The following art therapy exercise is by contributing guest author Dr. Deah Schwartz. Every month, Dr. Schwartz shares an art therapy exercise to facilitate exploration, increased awareness and healing in the areas of body dissatisfaction and disordered eating. Some of these directives may need to be facilitated over more than one session, or modified for different ability levels, size of group, budget and size of work space. Learn more about eating disorder therapy.
Advent(ure) Calendars Exercise: A new spin on the Advent Calendar
Materials: Poster board, manila file folders, card stock paper, ruler, scissors, markers, stickers, magazines, glue sticks, fabric, felt, paper bags, envelopes, yarn, or magnetic strip, for hanging, creativity, and imagination. Optional: Photos of or sample Advent Calendars.
How To:
Have the group or individual brainstorm on small attainable goals that focus on improving self esteem, healthy life style, and or helping someone else. These goals can be as simple as: looking in the mirror one morning and saying, "I am willing to learn something new today." Or inviting a friend to take a walk, or if I say or think something negative about myself I will say or think one positive thing about myself afterward. Try to have fun with this, get silly, get serious, get adventurous!
Try to come up with 31 ideas but if that proves to be too difficult, come up with 7 and reuse the ideas throughout the month.
Show the clients the different sample Advent Calendars and have them take one piece of the poster board or fabric and design a calendar grid. It doesn't have to be a standard looking grid. It can be different shapes and sizes for each day.
Write down each goal/activity on a small piece of paper and fold in half.
Using a combination of felt, paper bags, envelopes, and paper, create a container or pouch for each note and attach one to each day on the grid.
Make one extra pouch and place somewhere on the calendar.
Randomly place one note inside each pouch.
Create a hanger with yarn or magnetic strip.
When a goal is achieved, put the note back in the pouch. If a goal is not attained, place it in the extra pouch. At the end of the month you can see which goals you may want to try again the next month, and or explore what made those goals more difficult than the ones that were achieved.
Why: Making an Advent Calendar is not a new art activity, but rarely is it used as a delightful tool for charting progress and setting goals. January is the month of New Year's Resolutions. Most people set unattainable long term goals without measurable objectives and opportunities for positive reinforcement along the way. Setting an ambiguous goal e.g. I'll start going to the gym, I'll lose weight, I will exercise, gives few opportunities to feel good about progress. This Advent(ure) Calendar is set up for daily achievable goals tailored to increase self-esteem and adopt healthy habits that are not weight based. At the end of the month there is tangible proof of what actions were taken towards improving quality of life (replaced in their pouch) and which were not (those in the extra pouch). Unlike most New Year's resolutions, this art will last and stay pertinent month after month after month!