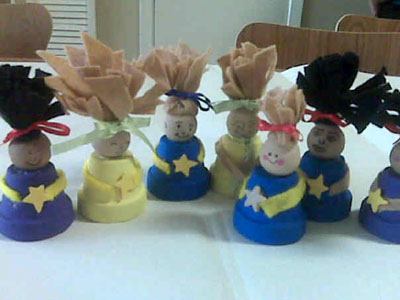 The following is a story submitted by a reader that I think is a wonderful story to share. Santilla helps out at a healing and empowerment center in New Orleans, Louisiana, where they offer safety and healing to women and children. It's a testament to art, but also to how we can all do something to help others. Here is what she sent to me:
My name is Santilla Victorian and I am a fan of your site. I'm also someone who does arts and crafts at Crescent House in New Orleans, La. Crescent House Healing Empowerment Center offers safety and healing to women and children dealing with violence and abuse.
The Crescent House helps the community by
supportive listening and personal empowerment
connection w/ the community
individual and group support
case management
legal advocacy and legal services
spiritual support
It is run by the Catholic Charities Archdiocese of New Orleans.
I go in with my church, First Baptist Church of Kenner, and we fellowship with the ladies, feed them dinner, and do a craft project. I center a lot of the crafts on spirituality but not always. I've attached a picture of last month's craft work. The ladies all made angels and many of them took on the personalities of the creators. I heard one lady call her angel, shy girl and another called her angel "the ghetto girl." I told her there are angles in the ghetto too, so it was ok to have a ghetto angel.
We will decorate crucifixes in a mixed media manner on 6/3/09 and on 8/26/09 I will try a bit of the Transformational Self Portrait art you described here on the site. I will use a technique known as thumb doodles where I'll have the ladies dip their thumb in paint and we will decorate the print in the form of little people. I will ask the ladies to draw facial expressions, hair, etc. I know it will amuse them and heal them at the same time.
I do not have a degree in Art Therapy. I am actually an auditor/trainer at an insurance company but this is something I do on the side. It is very fulfilling to the soul. The group ranges in size from month to month but it's gaining popularity.
I appreciate your site a great deal and I wanted to share this photo with you. Thanks again for all you do.
Santilla Victorian
First Baptist Church Kenner / Crescent House, NOLA
If you have a story you'd like to share that's related to art therapy, please check out the art therapy promotion page and make a submission!