**Update: Learn more about Lee using art therapy to aid trauma recovery with women from Australia.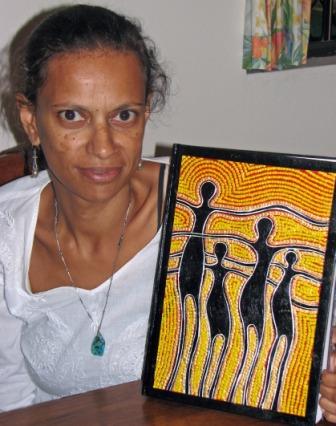 Here's a truly inspiring story out of Australia that reflects how corporations, businesses, and individuals can help other people profit beyond the means of money.
Imaginif, a family run business in Australia dedicated to supporting child protection, began by searching for a survivor of child abuse.  Their search ended when they chose Lee George, a 40 year old indigenous Australian woman.
Lee established a woman's art therapy program for aboriginal women of the stolen generation from Far North Queensland. Eight Australian Aboriginal women, ranging from 40 – 73 years old, meet on a regular basis to explore and heal their past. Because of Lee, these women have been given a voice and the ability to share their experiences through art therapy.
Because of financial hardship, Lee was faced with the difficult decision of finishing her social work degree or continuing to support the 8 women in her art therapy group. Being the selfless woman she is, Lee chose the group.
Lee was adopted when she was 2 weeks old, removed from her original family and home, only to be raped when she was 15. About a year later, still confused and frightened after being estranged from her foster family, she adopted her own baby. Since then she has returned to her home country with a passion towards the healing and recognition of pain due to separation from one's culture and family.
Lee is seeking support for her Bring Them Home program. Monetary support is always best, otherwise, here are some other giving ideas (your gifts will be recognized by Imaginif and All for Women):
Art Supplies
Canvasses
Acrylic paints
Brushes
Painting pallets
Art diaries and sketchbooks
Pencils and erasers
Beads and other types of things related to jewelery making
Tapestries tapestry wool
Sculpting clay
Items That Raise Self-Esteem
Haircuts
New clothing Plain Tee Shirts
Meals for the women
Overnight stays
Food hampers
Facials
Inkind Support
Advertising
Photocopying
Exhibition hire, etc.
For more information or to make a donation, please visit Imaginif.