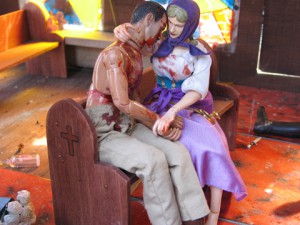 One of the producers of the movie MARWENCOL sent us the following information about the new documentary. It's about Mark Hogancamp and his recovery from traumatic brain injury through his own unique form of art therapy. It looks like a terrific movie and we're looking forward to watching it. You can learn more about the movie below…
MARWENCOL Trailer
About MARWENCOL
Art therapy is at the center of MARWENCOL, a new documentary about a man who created his own world to recover from a near-fatal beating.
On April 8, 2000, Mark Hogancamp was attacked outside a bar in Kingston, New York, by five men who beat him literally to death. Revived by paramedics, Mark had suffered brain damage from a traumatic brain injury and physical injuries so severe even his own mother didn't recognize him. After nine days in a coma and 40 days in the hospital, Mark was discharged with little memory of his previous life. When he awoke, his memory was gone. He had to re-learn how to walk, talk and even eat.
Medicaid initially covered a variety of physical, cognitive and occupational therapies. But just as Mark began to improve, his state-supported therapy ran out.
Unable to afford private therapy, Mark decided to create his own. In his backyard, he built Marwencol, a 1/6th scale World War II-era town that he populated with dolls representing his friends, family, and even his attackers. He used the small dolls and props to redevelop his hand-eye coordination, while he dealt with the psychological trauma from his attack through the town's many battles and dramas.
Mark started documenting his miniature dramas with his camera. Through Mark's lens, these were no longer dolls — they were living, breathing characters in an epic WWII story full of violence, jealousy, longing, and revenge.
When Mark's stunningly realistic photos are discovered and published in an art magazine, his homemade therapy suddenly becomes "art," forcing Mark to make a choice between the safety of his fictional town and the real world he's avoided since his attack.
MARWENCOL is a documentary about Mark's story, and what happens when the art world discovers his unique form of art therapy.

Images from MARWENCOL
Reviews of MARWENCOL
"MARWENCOL powerfully confounds our simplistic definitions of disability and genius."
Chronogram Magazine
"An astounding movie. Hogancamp seems an engaging lost boy until you see his pictures, which are stark and moving."
Ty Burr, Boston Globe
"Outsider art has never been as riveting – or as revealing – as it is in Jeff Malmberg's study of Mark Hogancamp. One of the best movies you'll see this year."
Norman Wilner, Now Magazine, Canada
Additional Information About MARWENCOL
Director's Statement
From Jeff Malmberg, Director of "Marwencol"
When I first read about Marwencol in Esopus Magazine, I originally thought it would make a great short film. There was something really interesting going on in the photos that made me want to learn more. So I got in touch with Tod Lippy (editor of Esopus). He was incredibly protective of Mark, but he eventually put us in touch and I flew out to meet Mark.
At first glance, Mark could easily be judged as hermetic and creepy – he's a grown man who spends his days playing with dolls. I realized pretty quickly that although this could make a compelling short (as ?This American Life? later proved), it would miss something important.
That was four years ago.
Since then, I've realized that my goal with the film is to turn that immediate snap judgment about Mark on its ear. I want to blur that clear line of rational thought and judgment within the audience ("he's creepy," "he's bizarre") by making the audience an active participant in Mark's recovery and journey. Who's to say that Mark's constructed reality is any less valid than most people's "real world?" In Marwencol, they may find more love, pain, morality and feeling than in their actual lives.
Mark is a living lesson in not judging people so quickly, and his story touches on issues that a lot of people deal with today in silence… alternative lifestyles, healthcare problems, post-traumatic stress.
With respect to his photographs, I tried to touch on the nature of art, and how some of the best art comes from conflict. It has an honesty that art from pure cleverness just doesn't. And that makes it beautiful, but at the same time, it makes it very private. A very private experience that all of us want to share in.
And finally, I wanted to get people thinking about the subjective nature of reality. Mark has two realities – Marwencol and the real world. Most of us would like him to live and succeed in the real world. I'm occasionally still guilty of hoping that Mark will "wake up" and realize what a huge opportunity his artwork is. But Mark loves his life in Marwencol and doesn't want to be an "artist." Some of us might see that as tragic, but is it? I think that central question will define whether a viewer sees the film as the tragic tale of a broken man or the uplifting resurrection of a gifted artist.

Director Biography
Jeff Malmberg, Director/Producer/Editor of MARWENCOL
"Marwencol" represents Jeff Malmberg's directorial debut. The film premiered at the SXSW Film Festival where it won the Grand Jury Award for Best Documentary. It has gone on to win Grand Jury awards at the Cleveland and Seattle International Film Festivals, Audience Top 10 awards at Hot Docs and Seattle, and a Special Jury prize at IFF Boston.
As director, Jeff was honored with the HBO Documentary Films Emerging Artist Award at Hot Docs, as well as the Cinematic Vision Award from Silverdocs. "Marwencol" is being released theatrically in the fall of 2010 by The Cinema Guild (US) and KINOSMITH (Canada), and will appear on the PBS series "Independent Lens" in the spring of 2011.
In 2006, Jeff produced and edited "Red White Black & Blue," a documentary that uncovers the Battle of Attu, the only land-based invasion of the United States since the War of 1812. "Red White Black & Blue" premiered at the Locarno Film Festival and was picked up for broadcast and home video distribution by PBS in 2007. Malmberg also produced and edited the Fox Searchlab short film ?Broadcast 23,? which premiered at the Sundance Film Festival in 2005.
As a film and television editor, Malmberg's credits include the critically acclaimed BET documentary series "American Gangster," TV One's "Unsung," A&E's "Biography," ESPN's "SportsCentury," and numerous shows for the History Channel. In the world of commercial editing, he has cut over 100 spots for directors such as George Lucas, Errol Morris, TRAKTOR and Harald Zwart, and brands such as Miller High Life, Nokia, Toyota, Polaroid, and "Star Wars." Jeff Malmberg is a graduate of USC's School of Cinematic Arts.

Crew Biographies
Tom Putnam, Producer of MARWENCOL
Tom Putnam's previous films have played over 300 film festivals. They include the documentary feature "Red White Black & Blue" for PBS/ITVS, which was the only American film chosen to be part of Critic's Week at the 2006 Locarno Film Festival. His short film "Broadcast 23" premiered at the 2005 Sundance Film Festival, and he also wrote, produced and directed the popular short film "Tom Hits His Head," one of the most widely seen short films of all time and the winner of 15 major awards, including the Spirit of Slamdance at the Slamdance Film Festival and the Grand Jury Prize at Aspen Shortsfest.
Matt Radecki, Producer of MARWENCOL
Matt Radecki co-directed and edited "TV Junkie," which won a Special Jury Award at the 2006 Sundance film festival and aired on HBO. He also served as producer and co-cinematographer on the PBS documentary ?Red White Black & Blue.? More recently, Radecki edited "Who's Back," shot by DA Pennebaker, which appeared on the definitive Who DVD collection "Amazing Journey." Since graduating from USC's School of Cinematic Arts, Radecki has produced several narrative films including "Chasing 3000," "Zerophilia" and James Elroy's "Brown's Requiem," and is the co-founder of Different By Design, a Los Angeles-based production and post-production company.
Chris Shellen, Producer of MARWENCOL
Chris began her career as a Creative Executive at the Paramount Pictures-based Cort Madden Company, where she developed projects such as the Emmy-winning HBO movie "Something the Lord Made." In 1999, she moved into interactive entertainment and marketing, where she has designed and produced award-winning campaigns and content for every major film studio, as well as for brands such as ABC, Barbie, Coca-Cola, GE, Oprah's Harpo, Henson and Target. Chris is a graduate of USC's School of Cinematic Arts and "Marwencol" is her first produced feature. She is currently working on a book about Mark Hogancamp and Marwencol.
Kevin Walsh, Producer of MARWENCOL
Kevin Walsh has written for Warner Bros., National Lampoon, Boom Studios and others in media ranging from feature films to comic books. With Evil Genius Entertainment, he has written and produced numerous comedy shorts, including the 2008 George Lucas Award winner "Padmé." He has also worked as a consultant for Paramount Vantage, Castle Rock Pictures, Mandalay Pictures, and primarily DreamWorks, where he helped to develop several projects, including "Transformers," "The Lovely Bones," "Galaxy Quest," and "The Road to Perdition." Kevin is a graduate of the USC School of Cinematic Arts and "Marwencol" is his first produced feature.
Ash Black Bufflo, Original Music of MARWENCOL
Ash Black Bufflo is the musical project of Jay Clarke. A founding member of Portland-based bands the Standard and Dolorean, Jay has played with Grails, Loch Lomond, Eric Bachmann, Holy Sons, All Smiles, and many others. Together with Jeff Stuart Saltzman, Jay composed the award-winning score for the PBS documentary "Red White Black & Blue."
Theatrical Dates and Locations (US & Canada)
October 8
New York, NY – IFC Center
November 4
Toronto, Canada – TIFF Bell Lightbox
November 12
Los Angeles, CA – Landmark Nuart
November 19
Philadelphia, PA – Ritz at the Bourse
November 26
Seattle, WA – Landmark Varsity
December 3
San Francisco, CA – Landmark Cinema (TBA)
Berkeley, CA – Shattuck Cinemas
Boston, MA – Landmark Kendall Square
Minneapolis, MN – Landmark Lagoon
December 10
Washington D.C. – Landmark E Street
Atlanta, GA – Midtown Art Cinema
St. Louis, MO – Landmark Cinema (TBA)
MARWENCOL – Technical Specs
Running time: 83 mins.
Shooting formats: DVCam video, Super-8 film
Aspect ratio: 1:1.77 (hard matte)
Sound: Stereo (English)
Rating: Not Rated
Available screening formats: HDCAM, NTSC DigiBeta, PAL DigiBeta (limited), DVD
MARWENCOL Film Credits
Directed, Produced, and Edited by
JEFF MALMBERG
Produced by
JEFF MALMBERG
TOM PUTNAM
MATT RADECKI
CHRIS SHELLEN
KEVIN WALSH
An OPEN FACE Production
In Association with
DIFFERENT BY DESIGN,
Los Angeles, CA
Original Music
ASH BLACK BUFFLO
Camera
JEFF MALMBERG
TOM PUTNAM
MATT RADECKI
KEVIN WALSH
Sound Design
PETE KNESER
Colorist
BRIAN HUTCHINGS
Sound Mix
PETE KNESER
Music Supervisor
ANNIE LIN
Title Design
PETER GRANT
Additional Photographs
DAVID NAUGLE
Equipment Loans
ROBERT WILLIAMS
LESLEY LANGS
Super 8 Transfer
SPECTRA FILM & VIDEO
World Film Sales
ANDREW HERWITZ
Cut Watchers
KAZ BRECHER
AMY HIMSEL RADECKI
EDWINA LANTIGUA
CHRIS MORTENSEN
KATE O'BRIEN-CLARKE
DAN O'CONNOR
LORI PUTNAM
MARK ROWLAND
TERI SHELLEN
NAOMI SPIRO
Very Special Thanks
TOD LIPPY
Special Thanks
JEFF BLAUVELT
DAVID COURIER
JOEL HELLER
JOAN LAMB
TOD LIPPY
DAVID AND ANN MALMBERG
NORA NOONAN
JANET PIERSON
A.J. SCHNACK
VILLAGE VOICE
WHITE COLUMNS GALLERY
Copyright 2010 OPEN FACE, LLC.
All rights reserved.