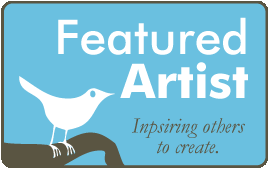 It's been a long time coming, but we are finally kicking off our Featured section. This is where we showcase artists and art therapists that we believe inpsire others to create. Not only do they get to be one of the elite few Featured on our site, but they also get to answer a fun get-to-know-you interview that we hope you find just as interesting and fun.
We are very excited to announce that Miwa Matreyek is our first Featured Artist! I came across one of Miwa's performance art videos and instantly loved it. I love the juxtoposition of digital imagery with the physicality of her presence. Sounds easy, but I can assure you it's not. As you will see, she does an amazing job.
Below are a some videos illustrating her work, the interview with Miwa, and more information about her.
Performance Art Videos by Miwa Matreyek
Dreaming of Lucid Living
Myth and Infrastructure
Miwa Matreyek Interview
1. Can you give the readers a brief bio about who you are, where you're from, what you do, etc?
I am an animator who creates animated short films as well as performances and installations with projected animation. I studied Experimental Animation at CalArts (MFA'07) and now work in LA, doing commercial work as well as art projects both personally and for the group Cloud Eye Control (CEC is me and two other CalArts grads, Chi-wang Yang, and Anna Oxygen). I grew up in Japan, and moved to the bay area in California when I was 11.
2. Describe yourself in 5 words.
Female, Japanese, American, eyes, fingers
3. If 3 of your best friends were hanging out with you, what's one thing they'd all jokingly make fun of you for?
– they would make fun of me for often being too literal – i.e. i always need to correct people when they say driving down to San Francisco when they are driving up (North). or point in the wrong direction when describing a street, store, etc.
4. What are you passionate about? This can be work-related, personal, whatever you would like to share.
making "jokes" and "surprises" i think that is actually a lot of my inspiration and creative drive comes from, a similar place from where as a kid(and as an adult), I would get really excited and devote a lot of time into making something elaborate (like a hand-painted birthday card or a song/skit/video) for a friend or my parents. I love getting excited about saying "okay, I'm going to make this really simple and silly thing and I'm going to devote myself fully to it for the next 3 days"
5. Is art, or the process of creating art, therapeutic for you in any way? If so, could you provide a recent example?
I think the act of creating and imagining is very important in my life. Listening to music, closing my eyes, and sketching out ideas of possible animation/performance elements are some of the most fulfilling moments. I think since most of my art doesn't have a story, but I am still trying to convey some kind of intensity in emotion, it becomes a ritual of feeling that over and over as I make the art.
6. How has art influenced your perception of life?
probably makes me visually analyze things more.
7. What are some other things or people that inspire/motivate you?
Music often really inspires me.
8. Do you believe creativity is an innate quality? Please explain.
I think everyone has some kind of creativity. sometimes it's completely intuitive and fantastical. sometimes it's innovative and scientific. I think one of the more inspired parts of making art is invention and problem solving.
9. What are some wise words or advice you would like to offer people reading this?
work hard.
10. You have been selected to go on an all expenses paid vacation with 3 people you've never met (dead or alive). Who is going on vacation with you and where?
I'm not good with strangers, so I don't know if i would want to be in a situation like that (even with my heroes). I would want to take my closest friends – I feel like I've been really stuck at my desk a lot lately and I would love to take them to a tropical island.
SPEED ROUND – Quick questions with quick answers. Ready, go!
What is your favorite food?
– i often start to feel really messed up if i'm not eating healthy, clean foods – quinoa, kale, beets, cabbage, parsley, etc.
– of course, i love sweets and chocolate, too
If you could be one animal, which one would you be?
– ?? i love elephants, don't know if i'd want to be one.
If you could have one superpower, what would it be?
– flying
FINAL QUESTION
Where on the world wide web can we learn more about you?
www.semihemisphere.com
www.cloudeyecontrol.com
About Miwa Matreyek
Miwa Matreyek is an award-winning animator, designer, and artist working in L.A. She is a graduate of CalArts, and a Princess Grace Award recipient for film in 2006. Her films and performances have shown internationally at film, theater, and performance festivals, and she won the Student Grand Prize and the Audience Choice Award for Best Installation at the Platform International Animation Festival in 2007. She is currently freelancing in the motion graphics industry around L.A.
Some of Miwa's shows include:
Santa Barbara Contemporary Arts Forum (2009)
USC (2009)
IMAGES festival in Toronto (2009)
PICA (2008)
San Francisco International Film Festival (2008)
Best of Platform, Studio Series, and NOW Festival at the RedCat (2007, 2008)
Museum of Photographic Arts of San Diego (2007)
Time Based Arts Festival (2007)
Platform International Animation Festival (2007)
Melbourne International Animation Festival (2007)
Philadelphia Film Festival (2007)
San Francisco International Asian American Film Festival (2007)
LA Freewaves (2005, 2007)
Edinburgh Festival Fringe, Edinburgh (2006)
Children's Film Festival in Owego, NY (2006)
Echo Park Film Center (2006)