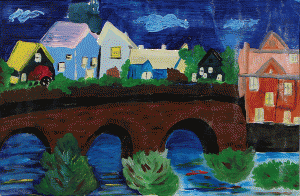 A new documentary has been released that highlights kids with disabilities and how art therapy can help them. It is an inspiring and heartwarming movie about a wonderful art teacher and some pretty amazing students and kids. It's a very touching film and better than some of the other documentaries we've seen related to art therapy. Check out the trailer and learn more about the movie below.
We encourage you to buy the movie from their site if you can as proceeds are used to support the friendship programs of Best Buddies Florida. Plus, it's a great movie for anyone interested in working with the learning disabled, or anyone interested in making a difference with art. This movie definitely inspires others to create!
"I'm An Artist" trailer
About "I'm An Artist"
I'm an Artist, tells the story of the often hidden children of our times-students with learning disabilities. The film follows several junior and high school students with autism, Down syndrome, behavioral issues and other learning disabilities who collaborate with their dedicated art teacher to create artwork for their first big, professional art gallery exhibition. The documentary also offers an inside view into the lives of children with special needs by following them to their prom, field day and senior trip. The heart of the film lies with the students' art teacher, Mary Jo, who displays unwavering enthusiasm for her students and helps them gain self-confidence, because with art, there are never any mistakes.
I'm an Artist premiered at the Breckenridge Film Festival in Colorado last summer, where it won the audience award. This was a rewarding experience for us as filmmakers, but more importantly, it signaled to us that audiences form a powerful connection to the students in this film and their dedicated teachers. Those who have seen the documentary have told us they are touched by its message: that students with learning disabilities, who struggle so often through school and life, can achieve more growth than most people believe possible.
From the Filmmakers
When someone showed us photographs of artwork created by students with learning disabilities, we immediately set out to learn more about these striking images. As soon as we visited the schools in New Jersey and began talking with Mary Jo, the art teacher, we knew we were on to something. Mary Jo has such a passion for using art to teach, engage and inspire her students that we in turn, were instantly inspired to start filming.
Over the course of an academic year our cameras followed several students on their journey to create art for their first professional gallery event. We also filmed them at various school events, such as their field day and senior trip. It was a special and rewarding experience for us as filmmakers to be allowed such access to the schools and to get to know these amazing children so well.
Most people talk about what children with learning disabilities can't accomplish, one art teacher showed what they can. I'm an Artist is a heartfelt story about a woman who never stops teaching her students that there are no mistakes in art. We hope you enjoy the documentary.
Awards and Nominations
I'm an Artist has also been nominated for a 2010 Voice Award, which honors film and television writers and producers who incorporate dignified, respectful, and accurate portrayals of people with mental illnesses into their scripts, programs, and productions.
Learn more about the film and the filmmakers.