Please read further if you know of anyone with cancer that creates art. Or, if you'd like to contribute to the event, details are below as well…
Art Show Benefits People With Cancer, Seeking Artists With Cancer
We have a special article today about a young man and young woman that are organizing an art event dedicated to helping those with lung cancer. Jessica, one of the coordinators of the art show, was kind of enough to tell us a about the benefit: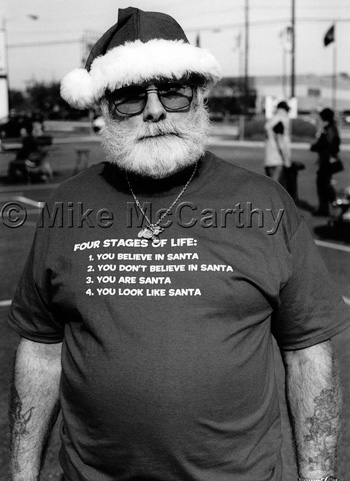 Four Stages – by Mike McCarthy
All of the artists featured in the show either have cancer or have had cancer. This art show not only helps those that have been affected by cancer but also will help to raise money for cancer research.
The father of my fellow coordinator passed away three years ago from lung cancer when we were 18 years old. Kyle's dad, Mike McCarthy, had spoke about putting together an event benefiting the LUNGevity Foundation, but unfortunately he passed away in February of 2006. After Mike McCarthy passed away, Kyle (his son, and my fellow coordinator) and I felt we had to do something to help people like his father and their families.
We started a photography show shortly after Mike's death, partly as a healing process for us and partly because we knew that we had to help others by raising money for lung cancer research. The show has been continuing for the last couple of years.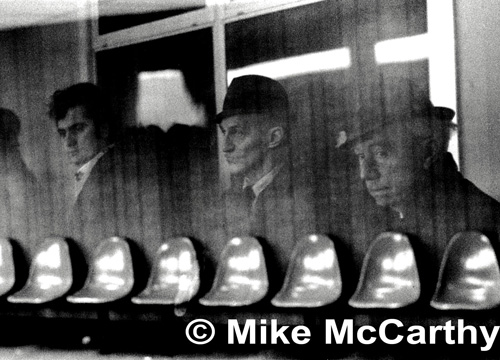 Waiting for Train – by Mike McCarthy
The first event was in the summer of 2006. Kyle and I had just graduated from high school. There were two reasons the events were possible, our determination and Little Tuna restaurant owner Marcus Severs' generousity. Marcus donated the space and the food and wine (and still does).
This is the first year we are opening up the showcase to other people with cancer. The first two years of the event we just showcased Mike McCarthy's photography, which was one of his greatest passions and gifts. If you ever saw him walking around, he would always have a camera around his neck. He had the keen ability to find the beauty in everything he would see through his lens. He labeled his style, "Street Photography."
He would spend countless hours wandering around the streets of Philadelphia, New York and Boston not just looking for a perfect picture, but absorbing his surroundings. He truly saw the good in people and knew that everyone had a story and he always was willing to listen. Whenever he would take someone's picture he would immediately go to them and strike up a conversation.
This year we want to open up the show to all different types of art work from different people who have either had or have cancer. Although this event is to raise money for lung cancer research, all cancer patients are welcome to participate in donating their art work for the show. We are currently looking for more participants to showcase their art. If you or anyone you know would like to participate and showcase their artwork, please contact the Art Therapy blog at arttherapyblog [at] gmail [.] com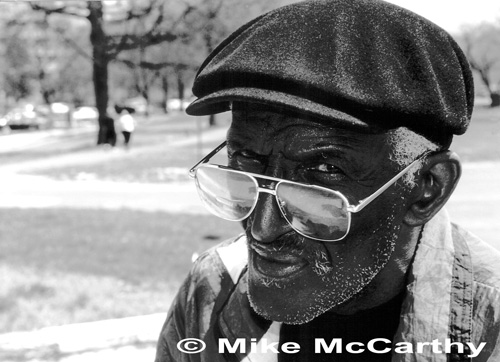 Allen – by Mike McCarthy
Jessica on how art helps those with cancer:
Art can help those with cancer because it is like seeing the world through the artist's eyes. Cancer is a tough subject to deal with and sometimes it is hard to find words for emotions. Colors, shapes and images can be easier to find. Plus it can be more fun to take photos, paint, sculpt, or whatever type of art someone wants to do.
About the Art show:
What: Picture a Cure Lung Cancer Benefit
When: Sunday, November 9, 2008 (Rain or Shine) 1pm – 5pm
Where: The Little Tuna Restaurant
141 Kings Hwy E
Haddonfield, NJ 08033
To register, donate, or for more information, you can visit: http://www.lungevity.org/pictureacure
For additional information, or to get involved, please contact Kyle McCarthy at pictureacure@lungevity.org or LUNGevity Foundation at 312.464.0716.
All proceeds go to the LUNGevity Foundation.
To see more photos from Mike McCarthy, visit: http://mikemccarthyphotos.com