Tracy's Kids 2008 Red Carpet Fundraiser Raises Awareness of Art Therapy with Children with Cancer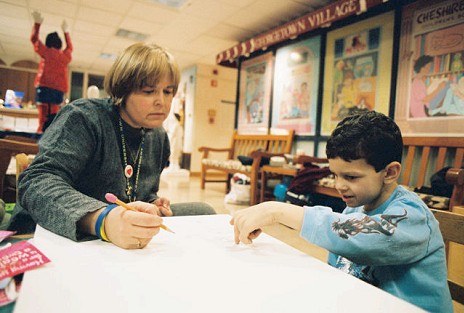 On the evening of Tuesday, February 12, 2008–right in the heart of Hollywood's awards season–Tracy's Kids 2008 Red Carpet Fundraiser was held at the Regal Theatre Gallery Place to showcase movies nominated for the film world's most prestigious awards. It provided celebrities from the film industry, Capitol Hill, and the business world a chance to "walk the red carpet," enjoy the glamour of a Hollywood premiere, and see one of the films nominated for a coveted Academy Award.
Tracy's Kids is a program of the Prevent Cancer Foundation, a private 501c3 nonprofit organization dedicated to cancer prevention. In 1991, Tracy Councill, MA, ATR-BC [see photo] came to Georgetown University Medical Center's Lombardi Comprehensive Cancer Center to start an Art Therapy Program in Pediatric Hematology-Oncology. The Prevent Cancer Foundation began funding the program in 1992, and has been its main supporter ever since.
The primary mission of the Prevent Cancer Foundation is to support state-of-the-art research in  cancer prevention. The Tracy's Kids' goal is to ensure that each child is emotionally equipped to fight the disease as actively as possible and prepare for the time that he or she is cancer free.
In 1998, the program was "adopted" by Matthew Gerson, a Washingtonian who had cancer as a child. During his treatment in the late 1960's, little was done to address the psychological and emotional concerns of cancer patients. Matt's appreciation for the plight of these children has helped the program grow and flourish.
Author/Contact: Cathy Malchiodi, ATR-BC, Professional Relations
American Art Therapy Association (AATA)
1-888-290-0878 or info@arttherapy.org