Recent Research Efforts Identify Treatments with Children, Adolescents, and Adults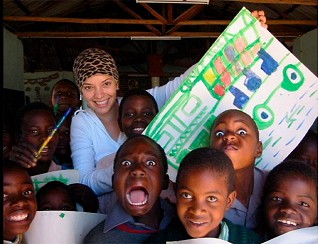 Recent research involving children and adolescents with post traumatic stress disorder (PTSD) indicates that art therapy may be a promising treatment. PTSD is an emotional  disorder that may be caused by a one-time traumatic  event, such as natural or man-made disaster, or by repeated traumatic experiences such as physical abuse, community violence, or maltreatment. Children and adolescents respond differently to trauma-inducing events than do adults and often display PTSD symptoms through creative expression such as drawing, painting, play, or storytelling.
In the latest issue of Art Therapy: Journal of the American Art Therapy Association (V.24, #4), Francie Lyshak-Stelzer, ATR-BC, LCAT, Creative Arts Supervisor at Bronx Children's Psychiatric Center, NY, and colleagues  report the results of a study to determine if trauma-focused art therapy (TF-ART) reduced symptoms of PTSD in adolescents in an inpatient psychiatric facility. When compared to a group of adolescents who participated in a standard arts-and-crafts activity protocol, the youth who received the TF-ART group sessions had a greater reduction in PTSD symptoms as measured by a widely used trauma reaction index. Lyshak-Stelzer notes that while these results must be replicated in other studies, the current findings look promising.
In the same issue of Art Therapy, Ohio art therapist Rebekah Chilcote [see photo] describes her  work with child survivors of the 2004 tsunami in Sri Lanka. The small island nation, just off the coast of India, was one of the hardest hit with over 30,000 people killed in the disaster. Chilcote observes, "The children's artwork revealed traumatic tsunami experiences, the importance of family, loss of loved ones, and religious and cultural heritage. Tasks, such as 'the day I will never forget' helped these children express their feelings about the events." Chilcote has also provided art therapy to children in Africa and Cleveland, OH. Art therapists have been central to disaster relief efforts worldwide, including work with child survivors of Hurricanes Katrina and Rita. They continue to provide much-needed services to the Gulf Coast region of the US.