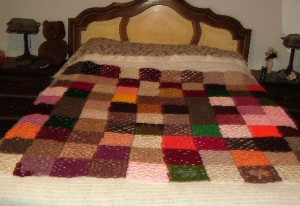 The following was sent to us by Laurie Roman and fits right in with our motto. Have a good story you'd like to share as well? Learn how you can promote art and creativity here. You can also read more about what art therapy is and its benefits.
Crocheting for Brain Injury Awareness and Art Therapy
Prior to a head injury in 2006 I was a Freelance Native American Family History & Food Writer Researcher & Speaker.
That all ended when I was sent flying backwards head first into a cinder block wall.
It took me 51 years to be who I was. My goal is to be who I was again, even if it takes me that long to work my way back to it. I've accepted the fact that there is no way to fix my head. The way they explain it, is that I have to find a way to rewire it.
It has been frustrating going thru the list of things I used to be able to do without much effort. To determine what things I can't do anymore.
Depressing at times to find out how many there are. Like sewing I used to be able to alter my own clothes. Now I can't do a straight stitch that actually holds together.
Too many things to list that I can't do anymore.
I had been trying to relearn how to crochet. After many months of trying and not being able to understand the directions. I figured out it was the printed directions that I was having trouble with.
I tossed the directions away, picked up some yarn and a crochet hook and started playing with it. After more tries than I care to count. I spent many months crocheting granny squares, tearing them apart and starting again.
I hit what the Therapist described as a muscle memory and am proud to say, even though I can't do anything fancy, I am able to Crochet again. I am using all the squares I crocheted to make blankets.
It is my dearest hope the Granny Square Blankets I am making can be used somehow to raise awareness for Traumatic Brain Injury Survivors. Those of us who, unlike Politicians and Sports figures, do not always get the treatment and understanding that they need.
The blankets I have made can be seen on my facebook page photo album Virkning is Swedish for Crocheting.