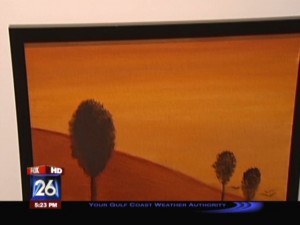 Here's a great story about a local artist and teacher helping children with special needs through the creation of art.
Alvin Roy, an artist and art teacher in Houston, Texas is helping children with special needs by helping and inspiring them to create. It's also helped some of the kids develop other skills like reading, writing and even with their confidence.
Even though there is not a professional art therapist present, there is no denying the impact art has had on these kids' live. You can hear the testimonials in the video below.
Video: Parent, Doctor Swear by Art Therapy
Video Transcript: Parent, Doctor Swear by Art Therapy
"What do you want to be when you grow up? Did anyone ever ask you that?"
"I ask myself that all the time. My current thing is I want to be a skateboarding astronaut."
"I think that's pretty cool. I'm still trying to grow up and figure it all out."
"It's a good question though. Did you ever ask that question to a special-needs child? Ever think of asking that question? Well Fox26's Damali Keith has the story of a man, his son, and his determination to break the stereotype."
…
Get you some yellow…and some green…the yellow green.
Damali Keith:
It's a story about color that has nothing to do with race.
Ramon:
Orange, yellow and blue. I learned how to paint. Blue and red and yellow.
Damali Keith:
This is what happens when a beautiful mind meets a beautiful mentor. Alvin Roy is an artist and he's also an art teacher giving his gift to special needs children (sic). His voice is almost an art form. It's melodic, excited, encouraging…Once a week here at Roy's downtown Houston gallery, the kids learn to create color on a canvas to come up with more than a pretty picture. It's almost therapy at the tip of the brush.
Dr. Tina Oliver (son is a student)
He is almost more outgoing it seems, more sociable. Before he had been a real quiet guy. And now he looks forward to it. We can't miss art class for anything.
Rachel Irby (daughter is a student)
I think it's great to see the potential and to be able to tap into something that's kind of been a secret or hidden skill.
Damali Keith:
Nineteen year old Emma has down syndrome. She also has sold two of her pictures. Down syndrome isn't stopping Roy's son Ezra from following in his dad's footsteps.
Alvin Roy:
Working with that art was helping him develop in other areas…such as his reading…such as his writing.
Damali Keith:
In fact, art is giving Ezra a vivid voice. Even when his words may not, his art says plenty, giving him and the rest of the students a way to express themselves. Roy says he began brushing bright paint on a page to give these kids a career.
Alvin Roy:
The chances of them making it into some type of profession or craft are slim to none. Well, I said, "nah, wait…hold on. We can do something about that."
Damali Keith:
And Alvin Roy has a really good track record. He's very proud to say that his son Ezra is now an art major at Texas Southern University and so he's very proud of that.
…
And Ramon, who you saw in the pieces is also an art major in community college. So, Alvin's produced some very good students there.
…
And they're going to have a gallery opening in October.
You can learn more about the program, buy the kids' work and more at http://www.royalgrafix.com/