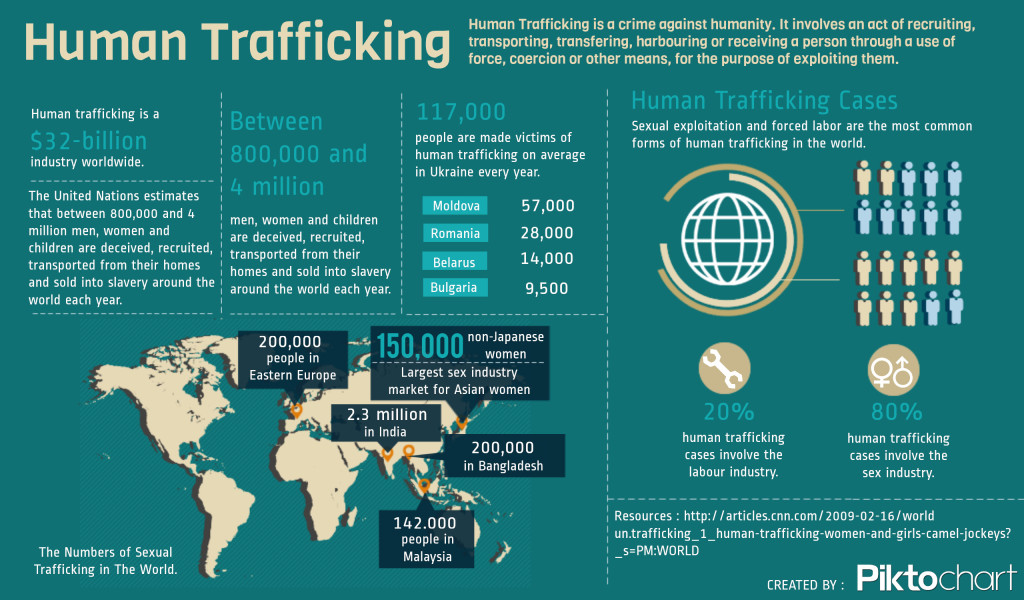 Slavery survivors are working with members of the United States Senate to end human slavery and trafficking. The survivors want senate members to regulate the foreign labors recruitment process. Besides that, they are also stressing the need for art therapy and other rehabilitative services. The Human Rights Watch and Save the Children are two organizations that use art therapy to help trauma victims move on with their lives. These organizations understand how sexual violence can impact a community both economically and socially.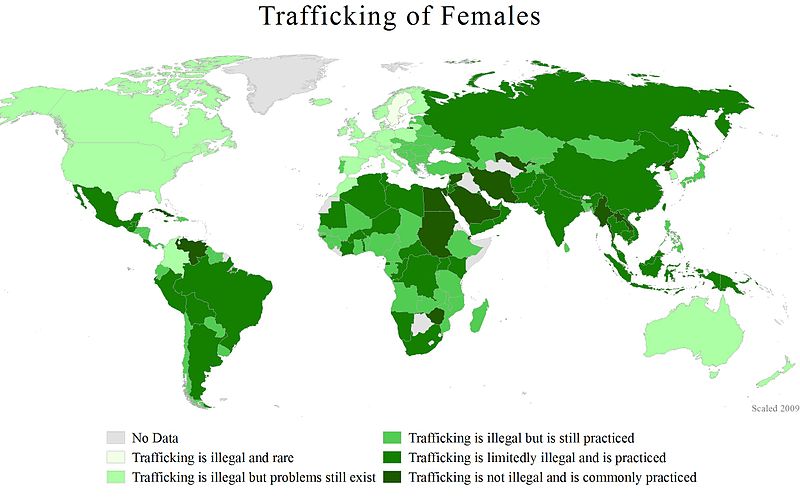 Some of the most common forms of art therapy include drawing, painting, photography and poetry. Extensive research has shown that art therapy can help victims overcome trauma. Unfortunately, most non-government organizations (NGOs) exclude art therapy from their advocacy material. These NGOs are ignoring the benefits that art therapy can have on trafficking survivors.
Quote from Margeaux Gray about how she was trafficked as a child and how art therapy helped her recover:
Okay. This is the first time speaking in front of a group like this and being here marks an important part of my survival. Let me explain.

I was trafficked as a very young child. I was taken to private residences and hotels, then auctioned off to anyone willing to pay. Despite numerous, unexplained, very grown up health problems, no physician ever asked whether I was being abused, much less trafficked, not once. When I finally escaped at 18, the first nightmare ended. I learned quickly that my own isolated horror would be difficult to move beyond.

Consequently, I have struggled with post-traumatic disorder, an eating disorder, peripheral neuropathy, adrenal insufficiency, and blindness. All related to the trauma of sexual and physical abuse.

I have battled to put the suffering behind me and being able to sit up here, confident enough to tell my story, an advocate for change, this is truly a milestone in my recovery. I have come to know that a trafficking survivor is never 100 percent free until we rid ourselves completely of the trauma's effects. That doesn't happen overnight. It's an evolution. It doesn't happen without a personal commitment and help. We are following victims but not adequately providing them with essential services that will help them become a true survivor.

For me, if it were not for art therapy and other psychological services that I received, I very well would not have survived even after I escaped my trafficker. I would not have the courage to speak out against the injustice of human trafficking.
Video: Combating Human Trafficking (Congressional Briefing)
In some countries, people still think that therapy is taboo; therefore, donors are unwilling to invest their money in something that they consider risky. Due to a lack of funding, organizations must rely on fundraising and grants from art councils. Since organizations struggle to attract funds for art therapy, slavery survivors are working on creating more awareness about sex trafficking. Survivors and humanitarian aides are challenging perceptions about slavery and sex trafficking so that people will take art therapy more seriously.
A lot of survivors struggle with feelings of shame and guilt. Those who work with sex trafficking victims must consider cultural sensitivities. In some cultures, people discriminate against sex trafficking victims for no reason. Those who experience shame and guilt rarely share their story by using words, which is why art therapy comes in handy. Art allows survivors to express their feelings and stories in a non-invasive way.
Map of legislative efforts regarding female trafficking


Color legends for chart above:
Gray: No data.
Green: Trafficking is illegal and rare.
Yellow: Trafficking is illegal but problems still exist.
Purple: Trafficking is illegal but still practice.
Blue: Trafficking is limitedly illegal and is practiced.
Red: Trafficking is not illegal and is commonly practiced.
In 2005, trafficked women and children from Cambodia participated in an art therapy project to speak out about their experiences. The organization put their artwork on display to educate the public about trafficking and mental health issues. Since the project was successful, it empowered other women to come forward. All art therapy should focus on the survivors instead of the rehabilitation goal. Organizations will see less success if they use art therapy to speed up the rehabilitation process.
Art therapy is more likely to have a successful impact if it lasts for more than a month. Instead of providing only temporary relief, the survivors should continue art therapy long after they regain their independence. A long-term art therapy program can help protect survivors from mental health relapses. Organizations who need funding should consider setting up an art therapy workshop to collect data and monitor mental health needs. The organizations can use data from the workshop to help campaign for preventative national policies. In addition, they can also use the data to attract more funding opportunities.
While art therapy only plays a small role in ending trafficking and slavery, it is a step in the right direction. Art therapy can help survivors by providing them with a way to share their feelings. Once survivors feel more stable, they can begin to rebuild their lives. Across the world, art therapy is helping survivors regain social and economic independence.
Transcript of Combating Human Trafficking (Congressional Briefing)
Melysa Sperber: Good morning everyone. Happy Monday. We are so grateful that everyone joined us here today. I'm really thrilled to have this gathering here in the Capitol Visitors Center so thanks so much. I am Melysa Sperber and I'm the Director of the Alliance to End Slavery and Trafficking. We are US-based coalition of 11 human rights organizations that work together to advocate for solutions to prevent and to end human trafficking and modern slavery.
We are here today because of the enormous generosity and support of senators Blumenthal and Portman. They together chair the senate caucus to end human trafficking and we value their leadership and are so grateful for their support today. In particular, I want to thank Sophie Friedman from Senator Blumenthal's office who is instrumental in putting together the logistics that made this event possible today.
I am honored to be here today with five individuals who are uniquely qualified to talk about what we all, as policy makers and advocates can do to help prevent and end human trafficking. The facts about human trafficking are disturbing. Human trafficking is a $32 billion industry second only to drug trafficking as an organized crime. Between 21 and 30 million people are enslaved worldwide. It is estimated that in this country alone, 14,000 to 17,000 people are trafficked into the United States.
Calls to the National Human Trafficking Resource Center operated by our coalition partner, Polaris Project have increased from 5,700 in 2008 to over 20,000 calls in 2012. While we believe some of these increase is due to a raise in awareness about the hotline, we also feel strongly that it's due to a rise in the incidence of trafficking here in the United States.
While these numbers help us to understand the scope of the problem, what we can never fully understand as advocates and practitioners is what is it like to be trafficked, what it is like to lose your identity, to experience extreme brutality, to be enslaved and then when you're finally free, what is it like to recover and overcome that trauma.
Our panelists today speak with experience and expertise gained from working with advocates, from working with survivors, law enforcement, and the private sector. I know their words will inspire us to work together more closely and effectively to end modern slavery. Shandra Woworuntu is an anti-trafficking advocate and a leader of the survivors leadership group, Voices of Hope which is operated through our coalition partner, Safe Horizon in New York City.
Shondra draws on her personal experience and her extensive knowledge of international labor rights to educate, inform and motivate others to become advocates to end slavery. In 2013, I was honored to work with Shondra as part of Vital Voices Global leadership … Global Freedom Exchange supported by Hilton Worldwide. She was selected to represent the United States. Thank you for being here today, Shandra.
Shandra Woworuntu: Thank you Melysa. It is good to be here today with all of you in this room. I am going to talk about how easy it is lured to human trafficking victim into the United State and what the US government can do to stop it. In my native Indonesia, I was a college graduated, financial analyst in international bank and I lost my job in 1998 because of political turmoils and its fallout and I expanded my job search to United State.
After responding an advertisement for one job in hotel in Chicago, I checked the legal document, paid the recruitment fee, and I flew to New York City. I enter the United State with lawfully non-immigrant visa against through the recruitment agency that brought me here. I was picked up at JFK by a man that affiliated with my trafficker and shortly thereafter however, our passport, forcefully removed and we were threatened and we realized that we were trafficked into sex slave.
I managed to escape from the small bathroom window by jumping out and I was saved. I cooperate with law enforcement to prosecute my trafficker and Safe Horizon New York assisted me to be independent and stay legally in United State.
What I want you to know is a stronger regulation of foreign labor recruiter would have prevented my nightmare in the first place and would save thousands more from similar fate. Labor recruiter and contractors are directly involved in the trafficking and exploitation of workers in United States who enter the country lawfully.
They make false promise about American job and charge workers with highly recruitment fee and false workers to stay in abusive or exploited worker condition under debt bondage. I know several trafficking survivor who paid up to US$20,000 fees for the job that didn't exist. In most cases, they borrow the money from people, bank or loan shark in their home country. They expect to be paid back. Now, exploited, trafficked, and unpaid. They cannot pay back this loan and this created debt bondage.
Congress has an opportunity help prevent this kind of abuse. The Fraudulent Overseas Recruitment and Trafficking Elimination for the Act of 2013 or called H.R. 3344 will deter human trafficking, force labor, and exploitation by number one, requiring the workers coming to United State receive the accurate information about the job, visa, and working condition.
Number two, ensuring that no recruitment fees charge to the workers. Number three, requiring that recruitment agency registers with the Department of Labor. And the last, number four, enforcing the penalty if the law is not followed by recruitment agencies.
I encounter men, women from all over world who have experienced human trafficking in some form, they are from different nations, cultures, backgrounds, but many have one thing in common. They were brought to this country by a seemingly reputable recruiting agency. With an estimate 14,000 individuals trafficked to this country each year and it's problem that it needs to be addressed. And H.R. 3344 is important part of the solution. Thank you.
Melysa Sperber: Thank you, Shandra. We're so pleased, in the senate, as part of comprehensive immigration reform, Senators Rubio and Menendez were among the biggest champions of passing a regulation to improve oversight over foreign labor recruiters and we're so pleased that the House of Representatives now has an opportunity to follow suit and to pass legislation, the FORTE Act that Representative Royce has introduced.
We think that that's a huge opportunity and could singularly change the landscape of trafficking by preventing it before it really begins.
Our next panelist is Ima Matul. Ima is a survivor, coordinator at our coalition partner, CAST, the Coalition to Abolish Slavery and Trafficking. She is a powerful advocate and she advocates for the rights of all human trafficking survivors particularly looking at the role of immigrant laborers in the US. Ima makes regular visits to Washington. We joked yesterday, she might need to get an apartment here soon to meet with congressional and administrative representatives.
In 2012, President Obama recognized Ima for her great work as a hero at the Clinton Global Initiative. Thank you for being here, Ima.
Ima Matul: Thank you, Melysa. Thank you all for being here. Good morning. Happy Monday. Well, I want to talk about the step congress should take to prevent the trafficking of children in the United States. It said truth that American most deprived children, those who are in the child welfare system are also among the most vulnerable to human trafficking. We also know that child trafficking victim too often do not receive services to address their unique need once they entered the system. As a survivor, coordinator of the National Survivor Network, I am moved by the many stories I have heard of children who should have been protected but were not.
Christina was 12 years old when she first approached a homeless youth center. She reported that her mentally ill mother boyfriend was physically abusive to her entire family. The counseling center contacted child welfare and Christina and all her sibling were placed in a different home. Feeling unsafe, Christina eventually returned to her mother where an adult couple recruited her into prostitution for two years.
My good friend, Evelyn, was nine years old when she left Cameroon on the promise of a better job. But instead was physically and verbally abused and forced to cook, clean, and care for other small children 24 hours a day. She escaped after seven years with a help from member of her local church. Evelyn bounced around to several foster care and was told not to tell her foster parent that she was in trafficking situation, so she received no support to help her to recover.
These are just two stories of many. I know important of supporting these children because I am trafficking a survivor myself. I came to America in 1997 when I was 17 years old, believing I would work as a nanny in Los Angeles, instead my trafficker took my passport, physically and verbally abused me and forced me to work 18 hours a day or more. I was fortunate to escape and receive support from the Coalition to Abolish Slavery and Trafficking which allowed me to rebuild my life.
Evelyn, Christina, and so many others like them deserve the same chance to live well after surviving the trauma of being trafficked. Since the child welfare system is the best channel through which to deliver much needed services, we must ensure the system is ready to identify and respond to victim as well as counsel children at risk.
One important step toward doing that is through legislation that is already being developed. Last year, the House and the Senate introduced identical legislation that aims to strengthen the child welfare system. In the House, US Representative Karen Bass and Tom Marino introduced H.R. 1732 which currently has 43 co-sponsor. In the Senate, Senator Marco Rubio and Kay Hagan introduced a companion bill as 1823. I would like to thank them for their effort and ask the other legislator to support them, to join them.
What would these legislation do? First, the legislation direct the Secretary of Health and Human Service to publish a guideline that will help child welfare agency serve the at-risk population they encounter. It also call for the state plan, that answer welfare agency make effort to identify and document the trafficking victim they encounter and report their finding within 72 hours to law enforcement.
Finally, it requires state to have procedure to help them assess and identify trafficking victim and provide comprehensive training and services to serve such victims.
I am very pleased that this legislation emphasize providing for two type of trafficking victim. Those forced into sex slavery as well as child labor. Each type of victim requires specialized services and it's important that people are trained to recognize the sign of trafficking. Trafficked children deserve our courage and commitment and it will take action to end a great injustice as well as help those who experience them. I ask all member of Congress to stand up and support this legislation. Thank you.
Melysa Sperber: Thank you, Ima. We're very grateful for your remarks and I'm particularly grateful that you mentioned not only the issue of children who are trafficked into the sex trade which is very much and rightfully so in the news but also the issue of children forced into labor trafficking. That is a problem like you described in the case of your friend, Evelyn. Children are forced to work in farms, in restaurants, factors, as well as households as domestic laborers. These children are less visible but it's so important that we not lose sight of them.
Our next two panelists are going to help us understand the needs of trafficking survivors and the ways in which the federal government can better address and respond to those needs.
Beth Jacobs is a social worker, an educator, a public speaker, and founder of Willow Way, a Tucson, Arizona non-governmental organization dedicated to supporting and empowering victims of sex trafficking. Beth is a tireless advocate for stronger anti-trafficking policies in Arizona.
She is often called upon to speak to local and state legislatures and she recently appeared with Cindy McCain of the McCain Institute and the Polaris Project to rule out a new billboard campaign in Arizona to raise awareness in that state.
Thank you so much for being here, Beth.
Beth Jacobs: Thank you, Melysa and thank you everybody for being here to listen to our issue. I'd like you to imagine that a young woman is kidnapped as she's walking home from work. Her kidnapper threatens her life and forces her to rob a convenience store. Should she be charged and held legally accountable for that? Put it this way. It is clear how absurd it is to criminalize the victim and yet, real men and women trafficked in the sex trade are regularly tried and convicted in America's courtrooms. I know this is true because I am one of those trafficking victims.
For more than 20 years, I've been living in absurd reality in which I am a criminal in the eyes of the law. Each state has the right to decide how long they're going to hold your criminal background against you and the state that I live in is Arizona. I'm required to tell prospective employers about my criminal background that I was trafficked, I have prostitution charges from that and I have to tell them for 99 years. So when I'm 117 years old and I apply for a job, then I don't have to tell them that I was a trafficking victim. So, we need to change that.
I got hired by the state of Arizona as a child protection sex crimes investigator because I have a lot of experience in sex crimes. They finger-printed me. They wanted a clearance card and one month later, they let me go because I had nine charges that came up from 1980 to 1983. This was in 2012.
Even though, I got out, went through my healing process, I went to college, got a BSW, I worked with women just like me for another 15 years in the state of Minnesota, I moved to Arizona, and all of a sudden, I'm a criminal again. Not good. Very traumatizing actually. I feel like I've rehabilitated myself already and it just doesn't seem like justice is being served.
Despite being arrested a hundreds of times for prostitution-related crimes before I was 21, nobody ever tried to intervene in any proactive, positive way at all. To make matters worse, even though I was a child, I got finger-printed as an adult because that's part of the growing process. They take everything from you. They take your belongings, your clothes, your jewelry, your ID, and they also take your name and your age. They told me my name was Julie and then I was 21 when I was 16.
So when I was 17, I was 22. Somehow, in the end of all these, the charges from I was really 16, it looked like I was 21. Some of them stuck on my name and it's a huge process to get that off.
I got my degree in social work, launched a career helping women get out of the sex agency. I've started an agency in Arizona called Willow Way. It's survivor-run, survivor-driven. I think it's important that we address this issue because many other women like me will be denied jobs just like I have because of their criminal backgrounds and I think a lot of people don't think about that issue when they think about women getting out and healing.
Today, Arizona is on the cusp of writing this wrong. Last year, a governor-appointed taskforce published a report recommending Arizona improve on how it addresses trafficking which is wonderful. It is my hope that Governor Brewer will make it a priority to push legislation that addresses the needs identified by the taskforce to ensure that trafficking victims are not treated as criminal and that the victim receive more access to needed services. They do have that laid out very nicely in the plan they made.
I hope that you will join me to do whatever we can to make sure the law is enforced, and to make that law enforcement, service providers, all of us recognize trafficking survivors as victims of a crime who deserve support and specialized services and not condemnation and blame. Please stop the life sentences. Thank you.
Melysa Sperber: Thank you, Beth. It is unthinkable to know that someone who has suffered the grave injustice of human trafficking would be treated as a criminal and yet, your story is proof that it can and it continues to happen here in the US. It is also difficult to truly understand the complex needs of survivors and then to craft federal policies that can be responsive to those needs.
Our next panelist, Margeaux Gray is an independent artist, anti-trafficking advocate and survivor. She uses art as an extension of her voice to educate, inspire, and empower others. Margot created the beautiful image behind us that is titled Ocean in a Drop. Margeaux, thank you for sharing your with us and thank you for being here with us today.
Margeaux Gray: Thank you, Melysa. Is my mic on?
Melysa Sperper: Yes.
Margeaux Gray: Okay. This is the first time speaking in front of a group like this and being here marks an important part of my survival. Let me explain.
I was trafficked as a very young child. I was taken to private residences and hotels, then auctioned off to anyone willing to pay. Despite numerous, unexplained, very grown up health problems, no physician ever asked whether I was being abused, much less trafficked, not once. When I finally escaped at 18, the first nightmare ended. I learned quickly that my own isolated horror would be difficult to move beyond.
Consequently, I have struggled with post-traumatic disorder, an eating disorder, peripheral neuropathy, adrenal insufficiency, and blindness. All related to the trauma of sexual and physical abuse.
I have battled to put the suffering behind me and being able to sit up here, confident enough to tell my story, an advocate for change, this is truly a milestone in my recovery. I have come to know that a trafficking survivor is never 100 percent free until we rid ourselves completely of the trauma's effects. That doesn't happen overnight. It's an evolution. It doesn't happen without a personal commitment and help. We are following victims but not adequately providing them with essential services that will help them become a true survivor.
For me, if it were not for art therapy and other psychological services that I received, I very well would not have survived even after I escaped my trafficker. I would not have the courage to speak out against the injustice of human trafficking.
Earlier this month, Congress passed an appropriations package to fund federal anti-trafficking organizations or programs for the physical year of 2014 and there were actually increases in funding for victim services. The first 10 in 10 years, that funding has risen. This is a big win and an important one.
Because every year, an increasing number of cases are identified through calls to the National Human Trafficking hotline. But this is just the first step. We need this funding and more simply to provide the critical emergency services, shelter, food, and emergency medical care for the growing number of trafficking victims.
We need to go beyond emergency care and services. We need a national commitment and financial investment to train doctors, psychologists, workers, social workers, and providers so that they can better understand the unique struggles and provide the services trafficking victims need to truly survive.
I believe strongly that access to psychological services should be a legal right. For every survivor of human trafficking, there should be no limitations on that, and when the service is made available. The process of recovery can be slow and unpredictable like recovery from any post traumatic stress disorder.
The United States has been seen as a leader in the fight against human trafficking. I'm proud of many things our country has done. My hope is that policy makers will make a much stronger commitment to end modern slavery and provide every trafficking victim with the services that they need to restore their mind, body, and spirit so that they can all become true survivors like me.
Melysa Sperber: Thank you, Margeaux. I think I can speak for everyone here to say, we are so happy to share with you and to celebrate this milestone in your recovery. Your story is so inspiring. As you mentioned, we did have a big win when the Omnibus Appropriations Bill passed and we saw support for victim services increase for the first time in a decade.
And yet, what we know is that we are still woefully under resourced when it comes to being able to meet the needs of trafficking survivors and we hope that Margeaux's story and the others that you've heard will motivate you and all of us to continue to work on increasing services as we look towards FY 2015 and the appropriations bills that will pass on victim services support.
Our final panelist is James Kofi Annan and he's going to talk about human trafficking overseas. James has won many awards for the work that he has done to combat human trafficking and the worst forms of child labor. Last year, he was awarded the World Children's Prize, an honor previously bestowed on the late, Nelson Mandela.
James founded Challenging Heights in 2003 to protect and improve the lives of young people in their communities affected by child trafficking and the worst forms of child labor in Ghana.
From the age of six to 13, James was forced to work in the fishing industry on Lake Volta. He escaped, then he sought a university degree and rose to become a manager in Barclay's Bank of Ghana. In 2007, he resigned his position at the bank to pursue his passion full time and devote all of his efforts to Challenging Heights. We thank you for coming such a long way here, James, to be here with us.
James Kofi Annan: Thank you, Melysa. And thank you for having me. I want to say a little bit about human trafficking in Ghana and what my organization, Challenging Heights is doing. Then, I will talk about important role that Unites States government can play in preventing and ending child trafficking overseas.
The fishing communities along Lake Volta, Ghanaian children are being sold into life of force labor, malnutrition, abuse, and non-schooling. Traffickers prey on poor families in communities along the country's coasts. Typically, the families are told by the traffickers that if they let their children come to the lake, they will live with them and go to school in exchange for a few hours of work after school.
In reality, the children are forced to work long hours on the boats and dangerous conditions. A typical day might begin at 3:00 AM and end at 8:00 PM and include challenging tasks such casting nets, diving, and hauling with only one meal sent. Children often get stuck in the net at the bottom of the lake. If a child is caught escaping, the consequences can be brutal. Often, the families do not hear from their children again.
I formed Challenging Heights about 10 years ago because I was a child slave myself who was forced to work in fishing boats along the Volta Lake as a young boy. I [inaudible 00:35:47] of the challenges of surviving such as trauma and I also saw the tremendous potential to change things in my country. To prevent child labor, to rescue children from slavery, and to give those survivors a chance for a good life.
Today, Challenging Heights runs seven different projects. We help prevent child trafficking from taking place by helping vulnerable children to go to school, creating awareness and building community capacity to stand up against trafficking. We also have a 65-capacity survivors rehabilitation center and a child trafficking survivors support network aimed at providing protection for vulnerable children.
I feel proud of our accomplishments but I know that there is so much more we need to do to stop trafficking in Ghana and throughout Africa. The United States government plays an important role and I just want to say a few things about that.
First, the US government department Trafficking in Persons report issued each year is a useful tool for Ghana and other governments. Having to keep them accountable for continuing to do better work to stop trafficking.
Each year, I contribute to the report, so to refresh, the most up to date related to trafficking survivors in Ghana. I host US government officials, showing them first-hand the dire situation facing children at risk of exploitation and trafficking.
The Department of Labor's Bureau of International Labor Affairs also plays an important role in this regard. The Bureau does a number of important things that affects trafficking in Ghana and other countries.
First of all, it conducts research on international labor, child labor issues, forced labor, and human trafficking and publishes very valuable reports on the worst incidences of child labor and list of goods produced by child labor and forced labor. Second, the Bureau funds projects for organizations engaged in effort to eliminate exploitative child labor around the world and it assists the development and implementation of US government's policy on international labor, forced labor, and human trafficking issues.
One thing I am concerned about though is that this important Bureau retains its resources and expertise to address the most intractable forms of child labor and exploitation. Even as gains are made in reducing the prevalence of child labor worldwide, [inaudible 38:42] complex programs remain. My request today is for congress to consider a legislation that would secure permanent resources for the Bureau of International Labor Affairs and isolate it from political shifts.
I also believe that the US government can improve the implantation of all eight development programs by integrating an anti-trafficking lenses in all those programs. Whether it is building a school, constructing a highway, or distributing food aid. The US government must integrate strategies for preventing, identifying, and responding to trafficking issues.
Everyone, including myself and all of you has a role to play in ensuring that children do not fall victim to the traffickers who prey on them. Thank you.
Melysa Sperber: Thank you, James and thanks to all of our panelists. This perspective each of you brings is invaluable. So many people here in Washington and in the advocacy community and on Capitol Hill, in the administration, and federal agencies care deeply about this issue and they all want to make a real difference. But it is difficult, impossible really for us to understand what is like to be trafficked. Today, you have helped each one of us to do that.
I want to ask, before we open it up to the audience a few questions. The first one, means we have to let go of some constraints and to think what we would do if each one of us had a magic wand that eliminated all the barriers, be they economic, political, or social, that we know do exist to combating trafficking and modern slavery.
If you could wave this magic wand, what is the single step you would ask congress to take to prevent and to end human trafficking. Shandra …
Shandra Woworuntu: Yes. I love to have that wand. As we know, US government is a leader in this issue and US government have a strong and wonderful law, loves to combat human trafficking and I want to see the law achieve as they promised. I hope the law will be enforced more and more and more. This is my magic wand.
Melysa Sperber: Thank you, Shandra. Ima, what would you with the magic wand?
Ima Matul: To prevent trafficking or to end trafficking, if I have magic wand, all the congress or government, whoever to end poverty. Because of poverty, victim end up being vulnerable and being a prey upon of trafficker. If we could end poverty, we could all have a better education, a better job and not being a fall preyed into a trafficker.
Melysa Sperber: Thank you, Ima. Beth, what would you do?
Beth Jacobs: Okay. Well, my magic wand would make a federal law that supercedes all state laws to serve trafficking victims, from housing to employment, to criminal backgrounds, it would vacate and dismiss all charges and it would listen to survivors and it would let us rehabilitate ourselves and let us live prosperous fulfilled lives and live happily ever after.
Ima Matul: The end.
Melysa Sperber: James?
James Kofi Annan: Yes. When anytime I come to America, I see that there's a consumer awareness in this country. Everybody, when there is an issue, everybody tries to look at what is the supply chain like. There's a strong consumer awareness here. Unfortunately, in Ghana, in Africa probably as well, we don't have that educated population to be consumer aware. Our consumer, our biggest consumer is American government.
I mean there are a lot of things that are done when it comes to international relationship with America. I would like the government of America to be our consumer and put pressure on our government to implement the very laws that protect its own citizens. That anything that is done for our country, for instance, it comes as one of the conditions to implements that laws that affect trafficking survivors.
Melysa Sperber: Thank you, James. Margeaux, what would you with your magic wand?
Margeaux Gray: I would protect children who are vulnerable. I would work with HHS and Department of Education to implement and come up with a mandatory plan to educate teachers and educational professionals along with social workers, psychologists, and those in the human service field, to better identify … To first, number one, have an understanding of what trafficking is, and the complexity, that it's not a cookie cutter situation, that there's labor trafficking, sex trafficking and under that, it's an umbrella.
Number two, I would then help them to better identify a trafficking victim and three, I would have services set up for each of those … that would attune to that survivor and would help them empower themselves because as I said in my speech that it's about … there's two steps. It has to come from you and also, we need help. Make sure that those services are available to help a trafficking victim become a survivor and hopefully, then that would, by proxy, to eliminate trafficking or decrease it. Thank you.
Melysa Sperber: Thank you, Margeaux for that articulate answer. My second question acknowledges that we exist in D.C., in a very polarized environment and one that is facing enormous and understandable fiscal constraints. Yet, we do see policy makers and practitioners coming together on this important issue and we were pleased that there were additional resources for survivors in the last appropriation's negotiation. Why do think that trafficking is an issue that brings us together? Why do you think, Ima?
Ima Matul: It's because it's required all of us to work together, to collaborate together, and work together to end this issue. It doesn't matter who you are, a Democrat, Republican, teachers, law enforcements, social workers, all of you, individual, we need to come together to end this.
Melysa Sperber: Thank you, Ima. Beth, what do you think?
Beth Jacobs: Well, I think it's a human rights issue. It affects men, women, children, it affects us all. I does not discriminate. From Democrat, Republican, we all need to stop human trafficking as community and as a nation, we have to work together.
Melysa Sperber: Thank you, Beth. My last question before we hand it over to the audience, is to ask each of our panelists what the one thing is that they most want the audience to leave here today understanding? Shandra?
Shandra Woworuntu: Okay. Thank you. Since I tried to learn more about foreigns national survivor related with human trafficking, I'm asking you to co-sponsor H.R. 3344 because this one way to deter foreigns worker victim of human trafficking, labor exploitation or forced labor into the United State. So this my passion to be passed.
Melysa Sperber: Thank you.
Shandra Woworuntu: Thank you.
Melysa Sperber: Ima?
Ima Matul: For me, first, thank you all for being here and listening to us. What I want you to take away today is think what we all, each of us speak about today and educate yourself and also, talk to your family, your neighbor, your community, to talk about the issue and educate yourself, what is human trafficking, how can you help, how can you identify victim, and what can you do as an individual.
Melysa Sperber: Thank you, Ima. Beth?
Beth Jacobs: Well, I'm going to go back to it does not discriminate. I mean victims don't come from prostitution ville down from Southern Arizona. They come from your families, they come from everywhere, it's your mothers, your sisters, your friends, church members, it's all of us, we're all at risk. I think some people think they're far removed from it and you're not. We have predators who would come in into our homes on the internet. So please, talk to your kids, don't try to protect them from that because the pimps aren't trying to protect them.
Melysa Sperber: Thanks, Beth. James?
James Kofi Annan: Yes. Oftentimes, issues come up [eastern Akai 00:49:49] and we wish that we were alive to be able to help, to solve the problems. Today, we have been given an opportunity to act. The time to act is now. There will be no other opportunity in the future. Let us not regret that in the next 30 years, we will say "Oh, I wish I had acted." The time to act is now.
Melysa Sperber: Thank you, James. And Margeaux?
Margeaux Gray: I would say, to empower yourselves, you need to empower others. Slavery must end but it won't end unless we come together and that you have the power to be able to do that, to help in implementing and passing legislation such as H.R. 1732, the child welfare. And that, if we come together, we can actually do this. I believe in my heart, in my deepest heart that we can and that this is a human issue.
Melysa Sperber: Thank you, Margeaux. I'd like to open up the questions to the audience now. My wonderful colleague, Meredith, has some hand-held mics. If you could raise your hand and we'll take some questions from all of you. When you ask your question, please stand up, identify yourself and your affiliation. Hi, Martina.
Martina Vanderberg: Hi, I'm Martina Vanderberg. I'm the President of the Human Trafficking Pro Bono Legal Center here in Washington D.C. Thank you to all of you for your incredibly moving and brave comments. It's so wonderful to hear directly from you because at this point, you really are the leaders of the movement.
My question, though, goes to this question of enforcement that many of you raised. The main effort I think in enforcement has been prosecutions and so I would be interested to know whether any of these cases were prosecuted, how many cases are prosecuted each year in Ghana.
I think it's important to remember that in the United States, in 2012, there were only 128 federal prosecutions in the entire country. So what's the role of prosecutions and convictions in fighting trafficking. Thank you.
Melysa Sperber: Thank you, Martina. Shandra … Do you want to go first? Yeah, James.
James Kofi Annan: Yeah. Since she mentioned Ghana, I think I would take a go at it first. Well, that is why I made a passionate appeal that the American people can become our advocate. Because you're thinking about more than 20,000 children who are caught up in forced labor and trafficking in Ghana.
In the just past year, we had just about 75 prosecutions done and only … 75 investigations, five prosecutions, and two convictions. I mean this is just, almost nothing. If we did more and I'm proud to say that my organization was associated with the first ever looker prosecution under our human trafficking law which was passed in 2005.
When we did that, a lot of traffickers returned children voluntarily which means that there's potency in prosecution and I think that we need to do much more.
Melysa Sperber: Thank you, James. Shandra? Would you …
Shandra Woworuntu: Specific, Ghana.
Melysa Sperber: Oh, Ghana.
Shandra Woworuntu: Yeah.
Melysa Sperber: Okay. Would anyone else want to speak?
Ima Matul: Well, I can say something.
Melysa Sperber: Okay.
Ima Matul: Hi, Martina. Well, not that many cases that being prosecuted even in the US. Especially in labor trafficking cases, because that labor trafficking cases are … Well, not just labor trafficking, also sometimes, in sex trafficking, that the crime, human trafficking is a hidden crime that people could not identify that until the survivor or the victim themselves reported it or someone that is really is paying attention reported it so it's not that many cases.
Like I'm not an expert in the numbers of how many cases is being prosecuted or how many percent. But not that many cases are being prosecuted. As an attorney or prosecutor that is in this room, we need your help to do that. Thank you.
Melysa Sperber: Thank you, Ima. Shandra, you have …
Shandra Woworuntu: Yes. Maybe I want to add something from Ima's information. Hi, Martina. Actually, some cases is done like my case. It was involved about five nationality but some of them didn't prosecuted because they're still on the run but US government really think about that and do their job to prosecute.
But some of the cases, the case become cold case and some of them become like done because some of the victim went away to their countries so they cannot do the right prosecution of the crime. I think this is the information that I can give you. Thank you.
Melysa Sperber: Thank you for that important question. But I think from our coalition's perspective, we don't do hope to see that number rise and we support those US attorneys like the one in New York who recently took on really complex cases and we hope that the attention remains on the survivors in those cases and not the perpetrators. We look forward to seeing more bold prosecutions even though we recognize the complexity and the complications in this area. Is there anyone else who has a question for our panel.
Brian Harris: Hi. My name is Brian Harris. I am with Inter Press Service New. I was reading that the alliance is recommending legislation that would require businesses making over $100 million a year to report their supply chains to the public. I was wondering if there is any action underway in congress to implement this proposal.
Melysa Sperber: I'll answer briefly and then, turn it perhaps to my colleague, Ima. Right now, we don't have a piece of legislation introduced but Representative Maloney in the House of Representatives and we believe also, Representative Smith are supportive of an introduction. It has been introduced in past congresses.
What we do have is a law in California that CAST was instrumental in helping to pass but is similar in spirit and structure to the one that we hope to see introduced at the federal level. Perhaps, I'll let Ima speak to the work being done on 657.
Ima Matul: Yes. The SB 657 which is California Bill, the Supply Chain Act that was passed about two years ago in 2012, I believe. Even though that this law has been passed two years ago but it hasn't been … being implemented. We've been asking, even the California Attorney General, been asking those corporation businesses to release, if there is any trafficking or slavery involved in their supply chain. That hasn't been released either. I believe CAST requested that, right?
Melysa Sperber: Yes, we have been requesting from the California attorney general more information about their enforcement strategy. There's also a website called Know the Chain that the coalition has endorsed that catalogues several organizations … or several corporations, sorry, and whether they are in compliance with SB 657. We do have to see implementation be strengthened so that the promise of the law is achieved.
Ima Matul: But I also noticed that recently or Kmart for example just joined the movement and promised not to have a slavery involved in their supply chain.
Melysa Sperber: Thank you. Any other questions?
Reid Maki: Hi. Reid Maki, Child Labor Coalition. I wanted to ask James if he could talk about the challenges of getting the children out of slavery. Are you able to go in and rescue children or do you have to wait for them to escape. How does that mechanism work?
James Kofi Annan: Thank you. My organization actively rescues children from slavery, much as we do prevention. As an organization, our focus is more of the survivors in terms of getting them out, and then rehabilitating them and making sure that those who are vulnerable do not fall victims. We leave the law enforcement aspect to the law enforcers though we provide pressure for them to prosecute them.
It's interesting to know that in 2012, we rescued over 100 children from slavery. Then last year, we have done the count yet, but we have above 100 cases. That's kind of the work that we're doing. But as I said, in order to solve this problem quickly and we believe that we can solve this problem within the next 20 years, we need every aspect to work, prevention, rescue, law enforcement, every aspect to work in order that we can achieve our goal.
Melysa Sperber: Thank you, James and thank you, Reid. Any other questions?
Mary Ellison: Hi. My name is Mary Ellison and I work at the State Department Trafficking and Persons Office. Thank you so much everyone for being here today and for sharing your stories with us. I'm wondering, obviously events like this raise really important awareness within congress as well as the government.
I know all of you are doing so much to raise public awareness in your own communities and in your own countries. I'm just wondering if you have had discussions or have ideas about what you think that the US government should be doing in addition to what it's already doing to raise greater public awareness about human trafficking and how people can take action to get involved to stop it.
James Kofi Annan: I'll start by giving you an example. Quite interestingly, this millennium challenge account, Ghana was given the second chance to work with … Our [inaudible 01:01:53] that before the second one was approved, our government will be asked questions, why we are still in tier two and why we're still in tier two watchlist a couple of years ago.
I mean this would have brought tremendous awareness for government to know that if I need more support more support from America, I'm going to be asked some of these questions, so I have to start acting now. I think that is very important.
I have had the opportunity to speak to bureaus and [inaudible 01:02:32] of power including even coming to this place. I remember a couple of years ago when I spoke to a congressional committee on this issue.
We don't have a lot of opportunity to speak to selected, privileged group like you. The opportunity is not created. Even to see a minister or a minister's assistant, the kind of process you go through before you get there is a lot. That's why I'm grateful that you've given me this opportunity to speak to you.
Melysa Sperber: Thank you, James. Shandra?
Shandra Woworuntu: How US government raise awareness and take action about that. It is huge issue and this is going off complicated because of all the government agent have to be together to raise awareness in their own staff. They have to educate their staff first and then they have to educate people who work in the frontline to deal with the community.
Because sometimes, they don't know to identify like a doctor, when the patient enter to the clinic with some bruises or some skin problem, they cannot identify if someone come with them and speak on behalf of someone who's sick. They have to ask the patient in case they have … like social worker come over and talk directly to them.
In law enforcement, they have to educate their staff especially in the frontline, not only the highest people who have the position because the officer who are on the field need to be educated because they deal directly with people with the community so it is more easier to the victim or the community to work together with law enforcement.
Then, Department of Education, like Margeaux mentioned, I agree with her that teacher especially and social worker need to be educated not only the principal, so it's kind of all the level of who sit in the government level and then also, it is for Department of State. Now, I'm talking about Department of State.
You have a proposal to have a video awareness that will run in all the immigration, US immigration around the world. It's not implemented and I ask you do it as soon as you can because this video awareness in the US immigration and all around the world will help to prevent foreign national to enter the United State with lawful visa.
Melysa Sperber: Thank you, Shandra. So much of what Shandra and James described does come down to resources and what we know is that the Department of Education has zero resources dedicated to trafficking. And yet, there are dedicated people within that department pulling together what they can in order to be responsive to districts across to country that are interested in doing anti-trafficking work and educating their practitioners and schools.
As James mentioned, there's also the Millennium Challenge Corporation and all types of other development and anti-poverty work going on all around the world supported by the US government. The US Administration for International Development did release a counter trafficking in persons policy that aims to integrate trafficking into food aid, infrastructure, public health.
What we need now are resources to actually get that out there into the field to ensure that all AID personnel are trained and integrating a flavory lens into the anti-poverty work that they're doing. It does come down to resourcing these efforts and putting our support behind the people who are at the frontlines of being in a position to respond and prevent trafficking.
Ima Matul: Can I also answer that question?
Melysa Sperber: Absolutely.
Ima Matul: Well, what the government could do also … US have a very such a great law compared like to other country and we just want to see that implemented. We have a great law but we haven't seen, as survivors sitting right here, haven't seen like any … well, a little bit of changes and as you know that the US government just released the strategic action plan, and I mean, me personally, myself would like to see that being implemented.
Melysa Sperber: Thank you, Ima. Margeaux, you have some thoughts too?
Margeaux Gray: Yes. I think we need to educate our children because as much as you would like to believe that this is not happening to children that you know "Oh, we don't want to go there. It's a touchy subject. It's for the parents." Not every parent is going to be a true parent or it might be their parents. Where do children learn? They learn in school.
I think that there needs to be some sort of program, age-appropriate to understand … This is speaking of child trafficking, both sex and labor, to understand what abuse and trafficking is because sometimes, it goes is … Well, trafficking is abuse.
Also self-esteem builders because a lot of times, children that are trafficked or as they get older and into adults, they have low self esteem and this leaves them more vulnerable to be trafficked. I think that needs to be part of the program as well.
Number three is I think it needs to speak … you have to think about how you advertise or educate about trafficking because if you … For me, if I saw something … When I was being trafficked and school said "Human trafficking, it exists," or something, I would just look pass it because I don't know what trafficking was. We have think from a child's perspective, from a young adult's perspective on how to educate and empower our children.
Melysa Sperber: Thank you, Margeaux. Do you have any other questions? We have one up here.
Jocelyn Bell: Thank you so much for sharing your stories. Hearing the survival stories revitalizes me through the work we … I'm Jocelyn Bell, I'm from Shared Hope International. We are partnering with an organization in Minnesota that is working with a foster care family, trying to get them trained and providing services to victims of sex trafficking and just providing a home them, the proper kind of environment. But they're having trouble recruiting these families to come and receive the training.
I was wondering what you would say to these foster families if you could speak to them to just encourage them to open their homes.
Shandra Woworuntu: There is a technique and strategy to go to that education, to the foster family. Maybe the first, you can say like "I want to educate about human trafficking." Maybe in simple way. The technique, the approach is the most important. If you don't have that technique, strategies in approaching them, you will not get it, even only foster care.
You have to know what kind of foster care family that you work with and then, the psychological, and the economic of the foster care itself, the family itself, so you have to use certain technique approaching, maybe "Okay. Let's come and sit. We have something to do," and then you start educating them in informal way. When they get into interesting feeling about the issue, you can go through the serious education and awareness. I think this is my perspective about approaching and education. Melysa.
Melysa Sperber: Thank you, Shandra. I know Shared Hope is a leader in engaging survivors themselves in training and advocacy and I think that we all believe that survivors really hold the key to providing insider expertise to families. Anyone else? Yeah. I think we have time to maybe one more question.
Okay. Well then, I'm just going to have a few thank yous. I, first want to thank our wonderful panelists. You are all doing so much to help policy makers and the public to understand what modern slavery looks like. Your voices are critical to the discussion about what needs to be done to prevent modern slavery, to stop treating victims as criminals, and to provide services that can help trafficking victims become survivors.
I also want to thank the team that helped support all of us in this panel today. My wonderful colleague, Meredith, Anne Brown, Erin Kisner and our media team, Pat and his crew and Sharon taking pictures. Thanks to all of you.
Finally, and perhaps most important to everyone who came to join this conversation today, we are so grateful that you came to learn more about this human rights crisis. I truly hope that you will take the information and perspectives that you heard today and make an even greater commitment to improving policies that can help us do a better job of fighting the battle to end human trafficking in the United States and worldwide. Thank you very much.