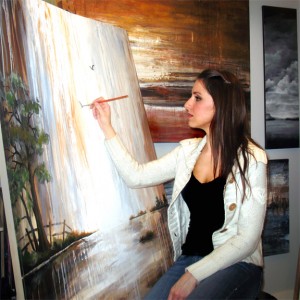 This month's featured artist is a very talented painter who knew she wanted to be an artist from a very young age. In the interview with Linzy Arnott, she talks about some of her inspirations, her creative thought process, her unique approach to painting, and much more! We're very honored to feature Linzy on Art Therapy!
Linzy Arnott Image Gallery
Interview With Linzy Arnott
1. Can you give the readers a bio about who you are, where you're from, what you do, etc?
My name is Linzy Arnott, I am 24 and work as a visual artist. I grew up in Cowichan Bay, a small town on Vancouver Island, BC Canada. Painting is a big part of my life, to me it is a necessity, right up there with eating and sleeping 🙂 I knew I wanted to be an artist from the time I could hold a pencil. I got my first easel on my 7th birthday and never looked back. I feel so lucky that I get to live my childhood dream every day.
2a. You mention places you've explored as being an inspiration for your work. What are a few of these more memorable places?
Growing up on a farm in Cowichan Bay, and being a short distant to the ocean I pretty much grew up outside. During the summers my family would spend a month on Rathtrevor Beach in Parksville and I would spend every day exploring the coast line, collecting rocks and shells with interesting texture and admiring the stunning views in different weather. I remember being mesmerized by the distant islands that would fade and disappear in rain and storms, I love watching storms. Another one of my inspiration spots is in Cowichan Bay, a secret little stretch of untouched beach that I would go to think when I was young, the scenery of the ocean, distant mountains and the sound of the crashing waves is such an inspiring atmosphere. Being in a place like that time stands still and the vastness of the ocean and mountains takes my breath away, it is that feeling I hope to capture in my work.
2b. In what ways have these places inspired you most?
I think the real inspiration is the feeling I get from being in these places… A feeling of complete freedom. Almost what I imagine flying would feel like. An overwhelming sense of limitless possibilities, where it is safe to just be me an unleash my imagination and dream.
3a. Can you take us through some of your creative thought process when you start to paint a new piece?
It always starts with a feeling, positive or negative doesn't matter. I rarely "plan" a piece, I feel that thinking too much gets in my way of creating. "Don't think, just do" is my motto 🙂 I usually set up my canvas and dump my paints all over the floor. Sometimes I don't even have the patience to use a pallet I just want to paint right that second and start firing paint right from the tube all over the canvas and start mixing it around with a pallet knife. My "under paintings" are usually colorful or dark and thick with texture. Then I watch paint dry in anticipation for the second layer. My first layer is usually so thick I need to let it dry overnight, to quench my inpatients I have at least five paintings on the go at all times.
3b. Can you also talk a little about your unique approach to layering your paintings?
I love to paint in layers, the effect and texture it creates fascinates me. My paintings usually have about 40+ layers of paint. It is a process of not only adding paint, but also taking paint away once it has started to dry. My frantic and unplanned under painting usually maps out the direction of the piece. From there I carefully add layer after layer of color, washing parts off, adding more while its still wet, adding layers of varnish in between to protects the parts I like and to keep parts of each layer visible. The liquid leaf layers start about mid way.
4. Describe yourself in 5 words.
Passionate. Stubborn. Spontaneous. Adventurous. Sensitive.
5. If 3 of your best friends were hanging out with you, what's one thing they'd all jokingly make fun of you for?
Getting overly excited when I get to try something I haven't done before… like going to a drive in movie or playing laser tag 🙂
6. What are you passionate about? This can be work-related, personal, whatever you would like to share.
I am passionate about living my dream. I am so passionate about color, obsessed with texture and addicted to the feel of brand new canvas. I am fascinated with water and mixing acrylic, water, liquid leaf and seeing the reactions on canvas. I am also really passionate about living an amazing and fulfilling life with my husband Russ. We both have our own passions that we dedicate a lot of our time too, and something we promised each other when we first got together is that we will always support each others passions. I also have a secret passion for childrens books, I am working on one right now called "The Last Piece Of Earth" 🙂
7. Is art, or the process of creating art, therapeutic for you in any way? If so, could you provide a recent example?
The process of creating art is very therapeutic for me, I could almost relate it to meditating. It is the only time my hyper active internal editor is on mute 🙂 I tend to over think, my mind is always going a million miles an hour and has tendencies of being very self critical. When I am painting that is all gone, I have no concept of time, I loose myself and find myself. Art has always been my way of truly expressing my emotions, I have said before that I am not good with words but I can just pour my entire soul out on canvas. As a child growing up in difficult circumstances art became my escape, the bad things would disappear when I was drawing/painting. A recent example…. I lost a good friend to a car accident when I was in highschool, although it was years ago now on the last anniversary of his death I found myself feeling deeply saddened. I decided to paint it out, I didn't stop painting until I felt relief, it was almost like pouring all of my emotions out into that painting until I felt better. What came out of the experience was the painting titled "Never Forgotten". Painting helps me process my emotions, sometimes it feels like the only way I can get them out. It fascinates me when people look at a painting and tell me how it makes them feel… it is usually exactly how I was feeling when I painted it.
8. How has art influenced your perception of life?
Art has brought so much meaning to my life, it has helped me get through difficult times and has been the cause of so much joy. Creating art reminds me of what is really important in life, being happy and doing what you love.
9. What are some other things or people that inspire/motivate you?
I read this quote once, it touched me so deeply that I have it front and center in my studio, I read it every day and it inspires over and over… " She decided to start living the life she imagined". This quote reminds me I have the responsibility to live the most happy and fulfilling life I can, and only I can know what that means for me, nobody else can tell me. Birds also really inspire me, they find their way into my work all the time. To me birds are the most beautiful symbol of freedom, I am motivated by the idea that I could help others feel freedom through my work.
10. Do you believe creativity is an innate quality? Please explain.
I believe everyone is born creative in their own way. Doesn't have to be creative in an art sense, could be music, communication, problem solving, budgeting, parenting, teaching, everybody is born with their own personal set of creative talents. What child do you know who ISN'T creative? I think often creativity is lost or forgotten, maybe even discouraged somehow as we grow up… I once heard "What you wanted to be when you were 3 years old is what you will be the happiest doing the rest of your life"
11. What are some wise words or advice you would like to offer people reading this?
I have a friend who always says, "Follow your dreams, the time is going to pass anyway… May as well pass the time by doing what you love!" Being an artist is not easy, it is a lot of hard work, but I cant imagine life without art. I think the most important thing we can do with our lives is to be true to ourselves and follow our dreams and passions, no matter how impossible they may seem (to ourselves or to others!). Forget about the people who say you cant and surround yourself with people who say you can. The most important thing you can do, is believe in yourself.
I love what Ghandi said "Your work is to discover your work. Then with all your heart give yourself to it."
12. You have been selected to go on an all expenses paid vacation with 3 people you've never met (dead or alive). Who is going on vacation with you and where?
Georgia O'Keeffe, Dr. Seuss and Tim Burton. We would vacation in a huge open tree fort in the canopy of a jungle accompanied by an enormous collection of art supplies.
SPEED ROUND – Quick questions with quick answers. Ready, go!
What is your favorite food?
Skittles (is that a food?)
If you could be one animal, which one would you be?
Bird
If you could have one superpower, what would it be?
To fly!!! 😀
FINAL QUESTION
Where on the world wide web can we learn more about you?
My new website http://www.linzyarnott.com