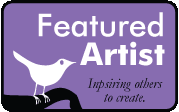 This month's featured artist is from Australia and hoping to work with children as an art therapist after she finishes school. A single mother of three children and a student, she is an inspiration for those of us trying to find time to be creative. Yana provides a unique perspective that we can all learn from and use as inspiration!
Yana Image Gallery
Interview With Yana
1. Can you give the readers a bio about who you are, where you're from, what you do, etc?
I'm an undergraduate student at the Open University in the UK, studying social sciences, I have dual nationality (Welsh/Australian) currently living on the Mid-Welsh border of England/Wales but will shortly be moving my family back to Australia. I lead a remarkably normal life as a busy student and single mother to three children.
2. Describe yourself in 5 words.
Warm, caring, geeky, humorous and tired.
3. If 3 of your best friends were hanging out with you, what's one thing they'd all jokingly make fun of you for?
My childish love of time lords, I'm an avid fan of the show up until the Tenth Doctor's regeneration .
4. What are you passionate about?
I'm passionate about many things; ensuring my children are OK, completing my degree, watching Desperate Housewives and Doctor Who!
5. Is art, or the process of creating art, therapeutic for you in any way? If so, could you provide a recent example?
Yes, art therapy is a very therapeutic part of my life, I found it to be an insightful, creative and rewarding process; I couldn't find the words to deeply process traumatic experiences but through the creative process and visual expression I was able to tap into, explore and understand these experiences. The beauty of art therapy for me is that it is an unconscious and gentle form of therapy- there is no judgement or confrontation, each person works at their own pace and the power comes from the creative process, if I was to equate it to anything it would have to be dream interpretation.
6. How has art influenced your perception of life?
I wouldn't say that art has influenced my perception of life, but through it I've become more confident and self assured.
7. What are some other things or people that inspire/motivate you?
People facing adversity with courage, humour and optimism are very inspirational.
8. Do you believe creativity is an innate quality? Please explain.
Yes, I think everyone has the ability to be creative.
9. What are some wise words or advice you would like to offer people reading this?
I'm not wise nor do I feel qualified to offer words of wisdom to others- but if you are considering doing art as a form of therapy I would say its not about the quality of work that is produced as the therapy comes from the doing rather than what is done; additionally, I'd point out that analysis is secondary to the process and, like dream interpretation, might make better sense to you over time; how others interpret your work might not be how it is for you as the process of art therapy isn't about how realisitic the piece of work is, or how good it is in terms of artistic technique, rather its a subconscious form of expression that is highly individual and personal that doesnt necessarily need professional interpretation in order to be of value.
SPEED ROUND – Quick questions with quick answers. Ready, go!
10. What is your favorite food?
Mexican
11. If you could be one animal, which one would you be?
Bird
12. If you could have one superpower, what would it be?
The power to regenerate!
You can email Yana at whoovyana@gmail.com