The following was submitted by one of our readers (the same reader who used art to help women and children deal with violence and abuse) and we thought it was worth sharing with everyone else since we like promoting things related to art therapy. It's always great to see art having a positive effect on others! Have a story you'd like to share? You can email us at arttherapyblog(at)gmail(dot)com.
I  wanted to also share the other art work from my ladies at Crescent House. We actually did this last fall. I'd asked the ladies to look into experiences in their lives whether big or small. It didn't have to focus on anything negative. It could have also been the result of meeting someone. It could have been someone they wished to become or something they wished to do (get a haircut, plant a garden, write a song). This activity was all about being new and how to get there. Here are a few of the results of our Transformational Self Portraits (past, present, and future).
Transformational Self Portrait Thumb Doodles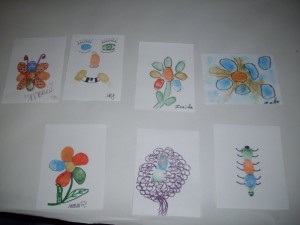 Read more about Transformational Therapy, and art therapy activities for Self Portraits.