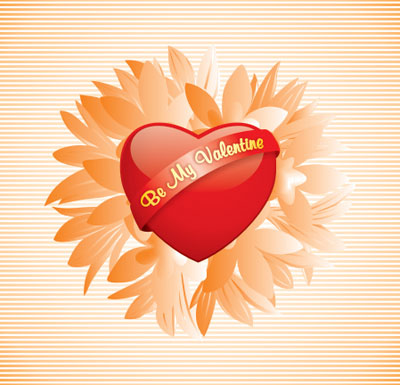 Valentine's Day is a great time of year to do something special for someone you love. Although Valentine's Day has become rather over-commercialized, there are still concepts from the holiday that we should apply to our everyday lives.
For example, let's talk about the concept of Love. Love is a strange beast that comes in many different forms. It can flirt with you, make you happy, hurt you, overcome you, and confuse you all at the same time. It comes in all shapes and sizes, and from all different directions. The concept of Love can mean many different things for many different people.
Valentine's Day is typically associated with the sharing of that love, often in the form of a "valentine," or love note.
Art Therapy for Valentine's Day: A Valentine Art Activity/Idea for Couples and Friends
For this Valentine's Day, you and your loved one or friend can get together and agree to create something special for each other, or you can surprise your partner or friend with something you've created on your own. Keeping with the love-note theme of Valentine's Day, a great art activity you can do is to make a love note from scratch.
Either use some items you have around the house or go to a store and buy some colored paper, stickers, or anything else that catches your fancy. You can get creative and recycle any images from magazines, newspapers, photos, etc. You could also take some common Valentine's Day elements and create something new or different. Some examples of these elements include, but are not limited to: Valentine's Day candy, hearts, rose or flower pedals, et al. Then, create a love note with your various materials that speaks to why you love your partner or friend.
You might also mix in a simple poem or creative writing piece that expresses in words why you love that person. The love note can be as simple or intricate as you like. Feel free to be creative, and trust your instinct!
Art Therapy for Valentine's Day: A Valentine Art Idea/Project for You!
It's very important to take time out and do something nice for yourself. For many of us, we often get caught up in the daily routine of life, trudging along and rarely focusing on our inner self. Sometimes it's important to put the spotlight back on ourselves and appreciate who we are and the things we do. Keeping with the whole love note and Valentine's Day theme, let's look at a couple activities and ideas we can use on ourselves.
Similar to the above idea and activity, you're going to create a love note for yourself. What are the things about you or your life that you really love and that make you happy? Think about what these things are and write them down. Again, you can use items you have around the house or go to the store and buy some things that fit into what you want to do creatively.
Either before you get the materials or after you have them, refer back to your list of things that you really love or that make you happy. Now create something that symbolizes those things, or express your love for those things in another creative way.
You can also this motivation to create something special for other loved ones that may get less attention in your day-to-day life. For example, you could creatively express your love for a grandparent, parent, pet, or someone who's passed away.
For either of these art activities you can draw, paint, color, or mix any type of media you like. And remember, you can do these art activities any time of the year…not just on Valentine's Day! Whatever you decide, get creative and be passionate about this project as that's what this time of year is all about!
And of course, while you're creating your wonderful art, you should probably eat some delicious chocolate or fudge while you do it 🙂
Happy Valentine's Day!