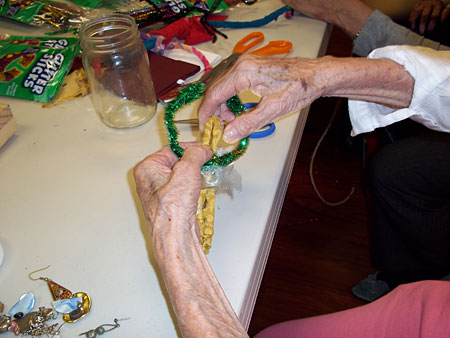 The following is a guest post by one of our Featured Authors, and an accomplished weaver and fiber artist, Aneesha Parrone. This article is the second installment about Aneesha's work with residents of an assisted living facility. These residents are senior citizens and elderly adults who suffer from Alzheimer's disease and dementia. You can read her first article: Assisted Living Activities for Seniors. The following article describes her journey of leading group art activities with seniors at an assisted living facility. We hope you enjoy it!
Sublime Community Art Activities for Seniors
"When I walk into the room, several women are selecting yarns, untangling skeins. More wander in, some in walkers. There is a grace hanging about the room. Their smiles are gentle. Quietude pervades the room. It is not
energy of silent lack, but that of a garden gently swaying in the wind. "
For the last 5 months, I have been working with art therapist, Sue Wood, in collaboration on an art project with residents of The Retreat Assisted Living Residence in Broomfield, Colorado. We have been fortunate to have partnered with Ballet Nouveau in an exhibit of expressive responses to the Ballet's performance, Chasing the Sublime. Dance is innate in our expressions as humans. Our breath dances around our hearts as we remember the sublime moments of our lives, and it bursts through in the light of our eyes and our smiles. Chasing the Sublime has been an inspirational springboard for us all to explore our sublime moments and create our own works of art. These are not independent expressions. The movement of the Dance has woven colors of joy through each visit, and is reflected in each work of art. The eloquence of line and shape of body in movement to music, in rhythm with the beauty of our heartbeats, lovebeats, lifebeats is interrelated with the works of art we created.
Sue and I are very aware that here, at The Retreat, no one is defined by the events of his or her life. We are full, lovely human beings. For many, the present "event" carries the name dementia, for some, Alzheimer's is the declaration. For others, The Retreat is a choice of senior residential living. No one is characterized by a label. Each person has lived a life valued and honored In working with art, we explored various aspects of sublime moments. We came together for a short while to share an experience that involves looms, both frame and table looms, yarn, paint, paper and canvas….and smiles. Providing a balanced art experiences one of reciprocity. Slowly we are experiencing a relationship of joyful sharing. We all have stories that have given us joy or sadness. We have a genuine sharing and interest in each other. Connections begin; an inner tapestry gathers invisible threads. Our dance has begun.
Photos from the Art Activities with Seniors
In this workshop, we talked about how some of us used to write in a journal when we were younger. Some still do. We talked about the secrets we would write. "Today, let's think about our 'happinesses'….What gives us that Ah! of joy in our heart….do we have something right now? Is there something from childhood?"
Some pondered the question. We went around the table. "Well, I used to love to play bridge, but we have only 3 people here who play and we need a 4th. Playing bridge gives me that happiness!" Our quilter and newly initiated tapestry weaver was next. "So many things make me happy: painting, music, even playing bridge, too." Oh! And connections were made. One woman remembered playing jacks and jumping rope with her girl friends, someone else said she loved to play the piano….and then added, "Being alive makes me happy! I want to be alive." For another woman it was the rag rugs her mother made. Another woman hooked rugs, and a conversation was ignited between the two.
We then taped strips of cloth in front of each person. They would write their happiness and then choose a colorful strip and come and weave them into our community tapestry. Conversations continued. One by one, weavers stepped up to the table loom to weave in their strips of cloth. Somehow our conversation drifted back to the jump rope…Someone remembered the childhood jump rope chant, and bit by bit others chimed in phrases…laughter…joy ! One woman who thoughtfully contemplated what her happiness was continued to untangle threads. When it came her time to weave the strips, she had carefully written, "untangling threads in a basket of yarn." Happiness and colors became the backdrop of our large fiber art display.
The relationship of artist and workshop participants is very organic. It grows naturally, we accept each other, are open to each other, and the bouquet of trust slowly releases and fills the room. It is not something we have an expectation for, or look for, or even when it wafts through the room, it is not something we long to hold and keep. It simply is or isn't and it is okay. We have an attunement that will carry over into all our art visits.
As we investigated how we could have fiber dancers express our sublime happiness, workshop participants explored how their own hands could express their creativity.
"These hands, so wrinkled ~ so old… and yet, I look at them and then…Things we have in our heads are interpreted through our hands. I look at hands, even my hands…Oh, I love yours…"
"What is in you hands?"
"She could wave, even if she was tied down.
Freedom…Peace"
"I think what you are saying is so profound. Can we find it
in the waving of a flag?"
"Dolls are magical, were even worshipped."
"You can add more to express other things?"
"I would hug a dream"
"I would hold it close"
"My rabbit expresses a type of chasing the sublime ~ Free ~
Totally, free."
Through expressive painting, workshop participants have been delving into memories. Sue Wood has initiated and developed an ongoing program entitled, Prisms of Memory. The emphasis is on process…the process of exploring the deep memories, sometime hidden away in secret recesses of the mind. Access to these memories is unlocked through the key of painting. The end product, a work of visual art, is an outgrowth of the true art, which is that of living and remembering life lived. That process is as natural as our breath and as we witnessed Ballet Nouveau on stage, residents of The Retreat were making connections with their own art with enthusiasm. Long after the house lights came up and we returned home, the Dance, continued. We were reminded that our Journey in Life is, indeed, an ongoing process.
Finally, the residents came together for an exhibit reception of their art displayed at Ballet Nouveau. What a delight to watch young dancers take a break from class and join us. One woman, who was a retired school teacher, drew her young audience into a conversation and pointedly asked open-ended questions that allowed the children to consider more deeply what they were doing with their art, the dance. Relationships, bridges, moments of deep sanctity, our conversations were more than mere chatter. The mysteries of life are deep and unfathomable. Through the expression of art and dance we came together for a short while and experienced our Sublime, suspended in the chasms of our heart.