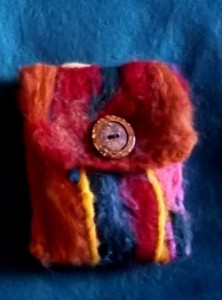 The following is a guest post by one of our Contributing authors, and an accomplished weaver and fiber artist, Aneesha Parrone. This is the second installment about Aneesha's work using needle felting with residents of an assisted living facility. These residents are typically senior citizens and elderly adults who suffer from Alzheimer's disease and dementia. This article is an art therapy idea and activity she uses to help people with dementia. You can read her previous articles: Assisted Living Activities for Seniors; and Examples of Arts Activities Helping Seniors With Alzheimer's and Dementia Remember
Needle Felting Supplies & Materials
1' X 3" cards with one word affirmation: i.e.: Beauty, Love, Joy (We make these with watercolors and markers. I copy and cut them and we share.)
6-8 colorful 1-2 oz. balls of wool roving
felting needles, at last 3 or 4 extra in case of breakage
bandaids
4 -5 inch thick foam pieces ( I usually by a large rectangle found at any fabric store and cut into 6" X 8" squares, one for each person
1 yard of white commercial felt from fabric store
variety of buttons
threaded needles
Needle Felting Instructions
Cut 11" X 4" rectangles from white felt. I usually do this ahead of time.
Pull roving—Do not cut- by first pulling wool sideways and then gently pull upwards. Spread color across felt evenly, not too thickly.
Hold wallet and begin punching the felt with the needle. Give yourself enough room so you don't punch your fingers ~ Bandaids are on hand just in case! Completely cover one side. Felt should be tightly compacted for best results.
Turn rectangle over and felt top 1/3.
Fold wallet up just past the felted top 1/3.
Felt sides closed.
Sew button onto wallet.
Make slit in top flap for button hole.
Choose Joy card and place in wallet.
** In December we make pocket ornaments by using the same concept, except smaller. You can also make pencil and pen cases, eyeglass cases….whatever you need or can imagine.