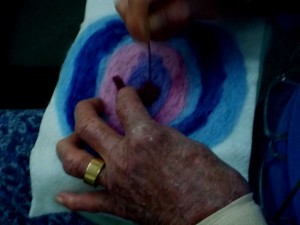 The following is a guest post by one of our Contributing Authors, and an accomplished weaver and fiber artist, Aneesha Parrone. This is the first installment about Aneesha's work using needle felting with residents of an assisted living facility. These residents are senior citizens and elderly adults who suffer from Alzheimer's disease and dementia. You can read her previous articles: Assisted Living Activities for Seniors and Examples of Arts Activities Helping Seniors With Alzheimer's and Dementia Remember.
How Can We Recognize Meaning
The room is darkened with the lengthening of days as the Winter Solstice is upon us. The light lever lifts and incandescence washes over the empty tables.  Soon, several people will be wandering in to join me. As I lift the fragments of colored wool roving out of the canvas carrier onto the table,  snippets from Rumi float to my conscious thoughts: "No one in the entire world is as precious as you are…You can never over-pamper your heart….Who else but you, please tell me, who else but you can ever take your place?
 
Recently, listening to a radio program, the commentator asked the question: "How can we recognize meaning?"  This perhaps is a key question when approaching our friends who are undergoing a change in perceptions through labels of dementia.  How do we perceive our friends and their process?
When presented with unfamiliar ground, I often reflect on my history as a classroom teacher. When a child was expressing their process through frustration, would I blame, tap into their frustration and reflect my own? Or, a fruitful exchange was one of realizing with kindness, and sometimes humor, they were deep in their process. How can I be of assistance?  What do you need?  Oftentimes, these were internal questions I silently asked, and being calm, an external response usually presented itself for the benefit of each of us. So, too, with many of our friends in assisted living residences, they would not be able to answer such a question.
And so, mirroring their questions of tears or frustrations, while handing them a piece of colorful wool roving is simple enough.  Sometimes, accepting the gift of a book loan from one of my friends becomes a miracle of generosity and acceptance for us both, mysteries of how we are traveling on our journeys with greater wisdom than is apparent from the rational cognition of healing, visual art and therapy.  We are an exchange of beauty, of sharing for each other.
Recently, in the facilities where I visit, residents have enjoyed the art of needle felting.  The process is easy, continuous and allows for comfortable, natural exchange of conversation, friendship building.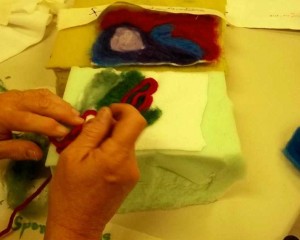 Everyone in the group is able to verbalize and write. If they were not, I would adjust the project for the people involved. Passing around a card and marker, we begin talking about the wonderful season that we are experiencing, the decorations, the gifts, the lights. I then ask: "What do you love most about what is going on right now?" There is common ground on which we stand: family…friends…time together. They write those simple thoughts onto a piece of paper and we place it over to the left…
We talk about the colors those people in our lives might be to us; what colors we might enjoy seeing.  I demonstrate the easy process of felting, pass around an example of completed wool that has been felted. They begin to choose colors. Conversations arise as we talk about our pieces of paper, our reflections of those who reflect our hearts, our smiles. I share how I once read that writing a word or two on a piece of paper and placing it over to the left while doing art sometimes helps our memories.
Our conversation drifts and weaves and is wafted like the music of the season…a season of light and joys of sharing. This kind of season is not enclosed within a single "special" time of year. Seasons of the heart are available each moment of the year, each moment of the week, each moment of the day. Cognition, memory, shared moments converge into being present and available in the heart.
There are powerful metaphors for the "process of process" in the tools used in felting….Our main tool is a needle…not one that has an eye with a thread, but one with jagged edges that approaches the wool material we use…the material of what is now in front of us…and the needle punches the wool into a very thick foam cushion, repeatedly as we converse…the cushion and our conversations are a safe barrier, so we won't be harmed while creating something beautiful.  This process of memory and aging can seem so jagged at times when my friends share their tears of frustration….our hearts are safe havens of protection as our lives become felted into something beautiful for Existence.
Bringing this practice of acceptance and allowing into my art classes with my friends in assisted living, allows for the barrier of "them and me" to dissolve into a relaxed "us".  The class concludes and each person leaves with their felted ornaments and we hug, smile, and move to the next moment of our day.
I smile as I flip the light switch and walk to my car with Rumi and the  swirling Colorado winter wind… "Who else but you, please tell me, who else but you can ever take your place?  Now, give yourself a smile. What is the worth of a diamond if it doesn't shine? How can I ever put a price on the diamond that you are? You are the entire treasure of the house …You and your shadow are forever in this world.  You're that glorious bird of paradise…"
Now, give yourself a smile…