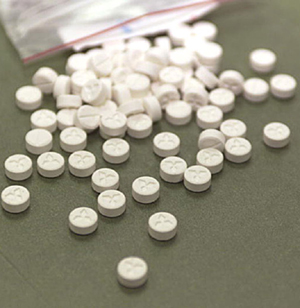 This isn't directly related to art therapy, but it's still very interesting news for those suffering from Post Traumatic Stress Disorder (PTSD). A study of veterans that began 6 years ago has caused a stir with its recent findings that MDMA, the active ingredient found in ecstasy, can be used to effectively treat symptoms of Post Traumatic Stress Disorder (PTSD). The Multidisciplinary Association of Psychedelic Studies (MAPS) began this study of MDMA and PTSD about 6 years ago in 2004. It was the first clinical trial of a psychedelic drug in 35 years.
One person was constantly angry, had haunting nightmares, and he withdrew and became isolated. He was daignosed with PTSD. He grew desperate after months of therapy, and eventually became part of the test. He swallowed a tablet, and after a few sessions assisted by ecstasy, his PTSD symptoms were "completely eliminated."
This could be a huge breakthrough considering the seriousness and challenges that come with PTSD. Below is an article from TimesOnline.co.uk about how ecstasy (MDMA) changed Donna's life after she was raped years before.
In 1993, Donna was brutally raped. She was a single parent living in a small town in Alaska, working as a dental nurse for the Air Force. She was due to work an early shift the next day and her two-year-old daughter was staying with a friend for the night. She was alone at home. At midnight she opened the door to a stranger who said he was looking for his dog. He asked if her husband was at home, and a second's hesitation was enough. He burst in, backing her up against the fireplace in the living room. Donna picked up a poker to defend herself. He said: "If you co-operate, I won't kill you. I've got a gun." And he reached into his jacket.

"I dropped the poker and that was it," she says. "I thought, this is how I'm going to die. No life flashed before my eyes, I didn't think about my daughter. Just death. I left my body and I stayed that way. The next thing I remember, the cops were coming through the door with a dog."

She endured the rape with her eyes squeezed shut. That she hadn't physically struggled would later form a large part of the guilt and shame that contributed to her PTSD. "I guess a lot of women would say, 'Someone would have to kill me before I'd let that happen.' Well, I did what I thought I had to do to survive," she says. When she heard a shuffle of feet outside the door she screamed for all she was worth. Her attacker beat her. Two policemen, probably alerted by a neighbour, broke down the door and arrested the man, then drove Donna to the Air Force hospital where she worked. "Of course it was full of people who knew me," she says. "It was completely embarrassing. And after that, nobody knew what to say. People avoided me, they looked at me funny. It was miserable."

Afterwards, convinced that getting on with life was the best thing for herself and her child, Donna carried on as usual. She was embarrassed that people who knew her also knew about the rape, particularly as she was still working at the hospital. But she couldn't remember much of the attack itself, and didn't try. So she was surprised when, four years later, her symptoms started to kick in. "I had no idea it was PTSD. I couldn't understand why I was so angry, why I was having nightmares, flashbacks, fainting spells, migraine, why I felt so awful, like my body was stuffed with cotton wool. Things had been going so good."

She started drinking heavily and went from relationship to relationship, finding men hard to trust and get close to. Convinced that she was dying and wouldn't live to see her next birthday, she went to the Air Force psychiatrist. "And that's where it started – take this pill, that pill. I've been on every kind of antidepressant – Zoloft, Celexa, Lexapro, Paxil. Wellbutrin made me feel suicidal. Prozac did the same. The pills were just masking the symptoms, I wasn't getting any better."

Yet she met her "soul mate", Steve, and married him in 2000. "When I first saw him I thought, 'This is the man I'm going to spend the rest of my life with.' We were like one person, finishing each other's sentences," she says. They muddled along, with Donna putting on a brave face. She had two more children. But getting close wasn't easy: "The longer we were married, the worse I got."

Once, Steve and Donna were watching TV when she had a vivid flashback to the night she was raped. "I looked at the door, I saw it open, and that feeling came over me all over again.

I thought, 'My God, why won't this go away?' Steve tried to understand, but unless you've been through this, you don't know what it's like."

Donna moved to South Carolina in 2002 when Steve – also in the services – was posted there. She began seeing a psychiatrist called Dr Marcet, who diagnosed her with PTSD and attributed it to the rape. It helped to know that whatever it was had a name and a cause: "I was like, why hasn't anybody told me this before?" It was Marcet who referred her to the Mithoefers.

Donna had never taken Ecstasy before. "I was a little afraid, but I was desperate. I had to have some kind of relief. I didn't want to live any more. This was no way to wake up every morning. So I met Dr Mithoefer. I said, 'Doctor, I will do anything short of a lobotomy. I need to get better.' " That's how, in March 2004, Donna became the first of Mithoefer's subjects in the MDMA study. Lying on a futon, with Mithoefer on one side of her and his wife, Annie, a psychiatric nurse, on the other, talking softly to her, she swallowed the small white pill. It was her last hope.

"After 5 or 10 minutes, I started giggling and I said, 'I don't think I got the placebo,"' she recalls. "It was a fuzzy, relaxing, on-a-different-plane feeling. Kind of floaty. It was an awakening." For the first time Donna faced her fears. "I saw myself standing on top of a mountain looking down. You know you've got to go down the mountain and up the other side to get better. But there's so much fog down there, you're afraid of going into it. You know what's down there and it's horrible.

"What MDMA did was clear the fog so I could see. Down there was guilt, anger, shame, fear. And it wasn't so bad. I thought, 'I can do this. This fear is not going to kill me.' I remembered the rape from start to finish – those memories I had repressed so deeply." Encouraged by the Mithoefers, Donna expressed her overwhelming love for her family, how she felt protected by their support and grateful for their love.

MDMA is well known for inducing these compassionate, "loved-up" feelings. For Donna, the experience was life-changing.

So what happened when she went home? Was she cured? She sighs. "I don't know if there's such a thing as a cure. But after the first session I got up the next day and went outside, and it was like walking into a crayon box – everything was clear and bright. I did better in my job, in my marriage, with my kids. I had a feeling I'd never had before – hope. I felt I could live instead of exist."