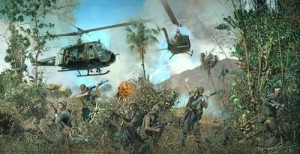 One of our readers told us about a program at Fort Bragg, Art from the Heart, that helps wounded soldiers transition to civilian life with the help of art. Sponsored by the American Red Cross and Army Wounded Warriors Program, the program not only provides therapy to the soldiers but also aims to help them transition to, and establish, a life after the military.
Artist and veteran, Craig Bone, leads the charge for the project, utilizing his talents and connections to help the soliders. At the end of the project, Craig will give each member the opportunity have their artwork and back story published in a book.
You can also watch a video about the project here.