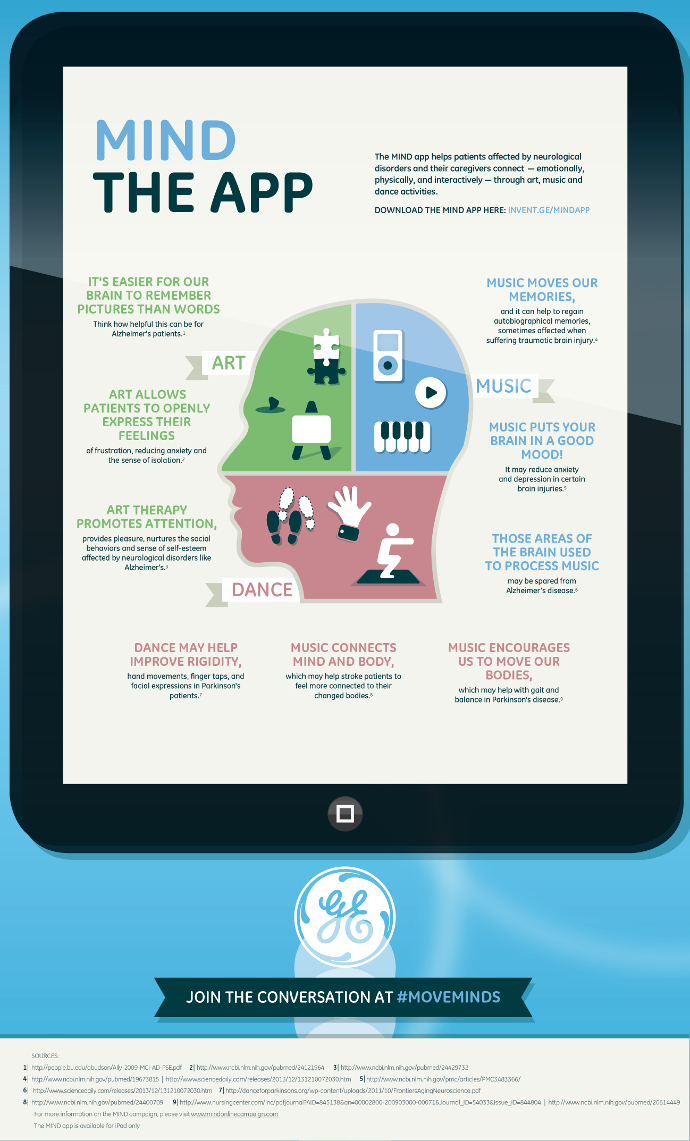 The beauty of art is in the eye of the beholder. Art stimulates the brain to see familiar images. Two people can look at the same piece of art; one will see familiar faces while the other sees animals. Art has the ability to trick our minds into interpreting the meaning. Music, on the other hand, does not trick us visually. Instead it feeds into our emotions. Music has a calming ability to reduce anxiety and to make you feel good. It can console you or it can excite you. How the human mind interprets art and music is nothing more than amazing. It is not wonder why GE Healthcare has developed a free iPad app based on art and music therapy as part of their commitment to forever change the lives of those who suffer neurological disorders by improving their care and the prevention, detection and diagnosis of neurological diseases.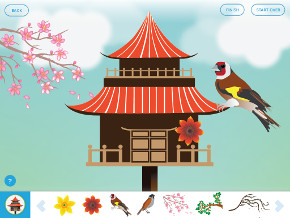 GE Healthcare's free iPad app, named MIND, was launched during the Brain Awareness week of March 10-16, 2014. MIND, which stands for Make an Impact on Neurological Disorders, was specifically developed to mentally stimulate patients who suffer with Alzheimer's disease, dementia, essential tremors, Multiple Sclerosis, Parkinson's disease, Stroke and/or traumatic brain injury. By creating an app that can stimulate and engage people with neurological disorders by using art and music, it encourages them to reach improved physical and emotional levels. Although this is not a cure for neurological disorders, it is quickly becoming a trend as there are very few apps created for the senior and elderly population.
According to the Finnsh Study on stroke patients in 2008, patients who listened to music for a minimum of two hours per day made progress towards recovery. They gained positive attitudes while improving their memory, verbal ability and attention capabilities. During the study, patients who listened to auto books or nothing at all did not make recovery strides the patients did who did listen to music. MIND can help those with neurological disorders stimulate their brain activity while increasing social interaction and emotional responses with art and music.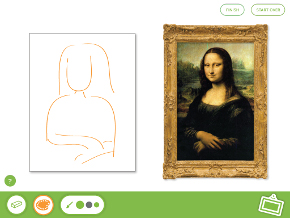 The art section of the MIND app allows the user to view famous artwork in a virtual gallery, allowing stimulation of the memory as art and pictures are easier to remember than words. The app will allow the user to create personal art work. Being creative helps patients express their feelings and emotional responses while reducing their anxiety. Increased self-esteem will help create social interactions. The app has activities where the user and their caregiver can engage together.
The music section of the MIND app allows the user to listen to their favorite songs or music from around the world. The app allows music videos to be viewed. Users are encouraged to sing and dance or move to their favorites. Dancing and movement can be as little as fingers and feet tapping and as much as movement of their entire bodies; therefore increasing physical activity. Music creates happy emotions and reduces anxiety and depression. In addition, users of the app can also create their own music.
Most of the senior/elderly populations are more hesitant in using technology such as iPads. A caregiver can encourage and help these people use the app and prevent them from feeling overwhelmed. The MIND app has advice and tips regarding the support and care of those with neurological disorders created specifically for the caregivers. The caregiver and the app can share features and do activities in MIND together, which strengthen and improve their relationship.
The MIND app is free and available for iPads on iTunes or at mindonlinecampaign.com