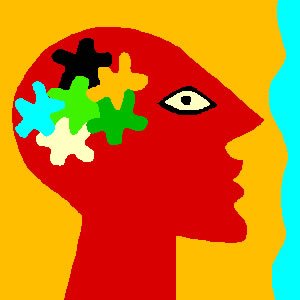 The following interview (MP3) was done in Australia with a psychotherapist and the topic of discussion is how art is used as therapy for people with a mental illness.
Transcript from the interview:
Dr. Chris James:
Art therapy is a very simple process of separating the thinking mind from the observing mind. When we think thoughts, they're usually fleeting thoughts and we don't give them a great deal of consideration. Very often we act on those inappropriately.
When we think about our thoughts, then we paint a picture in our mind. Now most people don't use the observing mind…they don't need to on a daily basis. But artists do because if artists didn't use the observing mind, they wouldn't be able to paint a picture.
So, it makes a very good form of therapy for people who are experiencing mental health problems.
Interviewer:
So, what actually happened here today?
Dr. Chris James:
We started off by having a powerpoint presentation which explained to people basically what happens in their brain when they feel anxiety or fear and get panic attacks and experience those sorts of discomforts. We identify the area of the brain that is affected and we looked at strategies for coping with those feelings. Essentially it's about accepting a lot of those feelings as normal. And dealing with them, being able to manage them rather than saying, "well I'm abnormal because I have anxiety or because I have depression." It's more about, well, everyone has levels of depression…everyone has levels of anxiety, but we need to manage it so we can get on with our lives.
Interviewer:
So, over the course of the next few weeks you'll have more workshops like this and then it will culminate in an exhibition of art works that have been produced by the people that are taking part in the workshops. What's the aim behind all of this?
Dr. Chris James:
The aim is to raise awareness in the community about people with mental illness and to dispel some of the myths about it as well. Also the aim is to provide some services for people who experience mental health difficulties and to make them feel as though they are welcome people in the environment and that they do have talents. Because they may feel different or they have different experiences they are still human beings and have an awful lot to give the community and I think the art exhibition will demonstrate that because we've had some marvellous work just come out in the first workshop today.
Interviewer:
Are there particular issues facing people with mental illness that live in small communities like some of the communities around here in South Kippsland.
Dr. Chris James:
Yes there are. In some cases there are families who will deny that their children have mental illness. There are difficulties especially if there is more than one person in the family who has mental illness. And in the general population at large, there's not a lot of knowledge about mental illness so people have a lot of fears about it. And one of the things that happens is somebody who does suffer from a mental illness is often labeled criminal. There's the assumption that they're going to do something terrible. And of course that generates a lot of fear…and it's quite wrong. When people with mental illness get associated with crime it's totally inappropriate because if you look at crime across Australia, most of the people who commit crime do not have a mental illness.
Interviewer:
So, you're sort of disspelling the idea of any kind of link between mental illness and crime. I'm interested in whether you believe there's a link between mental illness and creativity because if you look back in history at some of the most creative minds in all sorts of fields of arts, perhaps nowadays they would be diagnosed as having a mental illness. Do you think there is a correlation there between creativity and mental illness?
Dr. Chris James:
I think everyone has creative potential. But what happens with people with mental illness is – and it happens in the brain, it's a very physical thing – the brain has to compensate for some of the things that are lacking. It's like if a person is blind, you'll often find they've got an amazing sense of smell or an amazing sense of touch. And the brain does a lot of compensating for areas that may be a little bit deficient and it's called brain plasticity. It's the brain's ability to heal itself by using other areas of the brain. And I guess what happens with mental illness is they do develop these amazing talents for art and for music and dance and theatre. And yes, there are many famous people in history who have had severe mental illness and produced brilliant works.
Interviewer:
And we're likely to see some brilliant works produced here in Foster over the next couple of weeks, do you think?
Dr. Chris James:
Oh, most definitely. I've seen brilliant works already today. And I'm quite ecstatic about what's happened today.