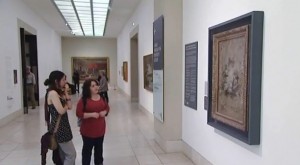 A new study shows that our brains react in a similar way whether we are in love or whether we are looking at beautiful artwork. Research by Professor Semir Zeki demonstrates that looking at art stimulates our brains which create the same chemical response as when we are in love. This is just further evidence that art may prove beneficial for those that are feeling down or depressed.
Professor Semir talks more about this in the following video posted by the United Kingdom's ArtFund.
Video: Art Stimulates Brain Same as Being in Love
Art Gives Same Level of Pleasure as Being in Love – Transcript
Narrator:
Art lovers have long thought that art is important to our well-being, but they had no proof…until now. New research into how the brain works by Semir Zeki, Professor of Neurobiology and Neuroesthetics at University College London has uncovered how our brains react when we look at art. And it seems as if art lovers were right all along.
Semir Zeki:
There have been very significant new advances in our understanding of what happens in our brain when we look at works of art. We've recently found that when we look at things whic we consider to be beautiful, the activity in the pleasure and reward centers of the brain goes up. There is a lot of dopamine, which is also known as a feel-good neurotransmitter, in these areas. So, basically the feel-good centers are being stimulated.
We have looked at the activity in different brain areas by putting people in a scanner and showing them pictures. When they experience beauty there are areas of the brain which activity goes up significantly. It is also released, for example, in a state of love and desire. So that, in a sense, it induces a feel-good factor.
Girl 1:
It just gives you a whole new perspective on so many different things.
Guy 1:
It lifts you out of the mundanity of life.
Girl 2:
It makes me feel good.
Narrator:
The findings coincide with David Cameron's concerns around UK well-being, which led him to commission the happiness index in April with the results being published this summer.
With art engendering such a feel-good factor, the Art Fund's launch of the National ArtPass is set to be good news for the government as well as the population at large.
Dr. Stephen Deuchar – Director, The Art Fund:
By holding the National ArtPass, you get access to hundreds of museums across the country and the art that lies within them, and special discounts, and special access generally.
Grayson Perry:
I get responses from all levels of society that are quite emotional sometimes because they identify their own lives in it and their own issues. Life without art would be a series of emails…it would be quite boring.
Related Story:
Art Heals Elders, Relieves Depression and Anxiety