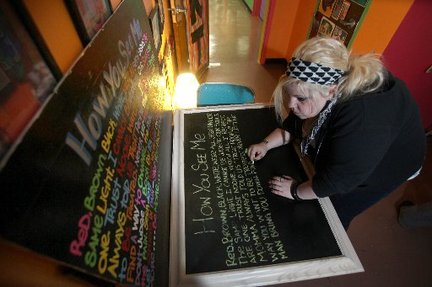 Photo Credit: Patti Sapone/The Star-Ledger
Emily Lewis was awarded a full scholarship to Parsons The New School for Design in New York City. However, you might be surprised at how she got there. An interesting story and a testament to art therapy, Emily Lewis dropped out of high school and was addicted to drugs. Then she met Ruthann Traylor at a homeless shelter and the events of her life took a different course.
Ruthann Traylor started an art therapy program to help fight poverty and help those living in poverty. Some people were skeptical about the program, like Connie Mercer, the executive director of HomeFront.
When Traylor approached Mercer five years ago about starting an art therapy program, Mercer was dismissive. "I said, 'Ruthann, hon, we're just trying to put a roof over people's heads and get them fed. There's no money for anything like that," she recalled.

Insistent, Traylor offered to work for three months for free to convince Mercer.

"After the third day, I got it," Mercer said. "I now understand it's as important to feed folks' souls as it is to feed their body."
You can read more about this wonderful story at The Star Ledger. Many thanks to the author, Nyier Abdou, for sharing this.
Art Therapy at Homeless Shelter Helps Battle Poverty
Art therapy program at homeless shelter helps women rebuild lives, defy stereotypes