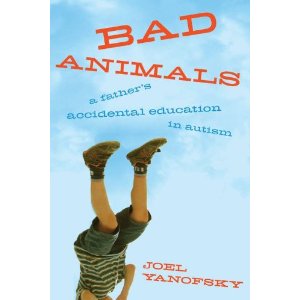 Bad Animals: A Father's Accidental Education in Autism
is a book about a Canadian author Joel Yanofsky, his wife Cynthia (an art therapist), and their son Jonah who was diagnosed with autism at the age of four.
Bad Animals describes in detail Yanofsky's experience raising a child with autism and attempts to draw the reader into the everyday details of the experience in a very autobiographical way. He writes about his experience with psychologists, so-called experts, counseling, therapy, schooling, and all sorts of struggles that he and his family faced.
Yanofsky also offers his perspective as a father that is trying to cope and come to terms with these realities every day. Despite the expected tone, it's a book that is both funny and heartfelt at the same time.