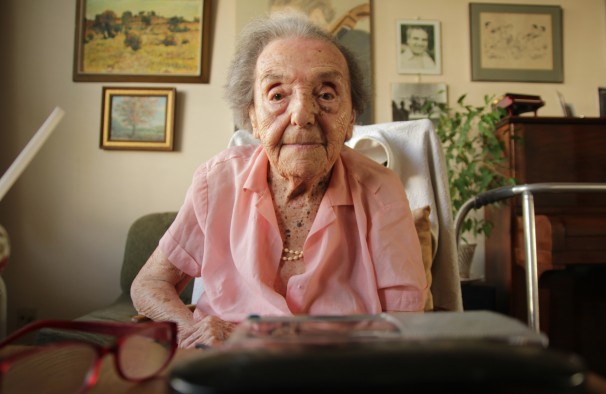 Photo courtesy of Nick Reed Ent.
What's on this page:

Congratulations to Malcolm Clarke and everyone that worked on the Oscar-winning film, "The Lady in Number 6". And of course none of it would have been possible without the inspiration of Alice Herz-Sommer who recently passed away at an astonishing 110 years old.
Everyone should watch this inspiring movie about one of the most amazing people you will ever see. Below are some clips from the award-winning documentary as well as a link to read or listen to a book about her.
Trailer: The Lady in Number 6: Music Saved My Life
About Alice Herz-Sommer
Alice Herz-Sommer was a pianist and survivor of the Nazi concentration camp Theresienstadt, who was recently made famous in a documentary entitled, "The Lady in Number 6," which focuses on her life and optimism following her time in Theresienstadt.
Alice was born in Austria-Hungary, what is now Prague, to a highly educated and cultured Jewish family. She had two sisters and two brothers, and, through her parents, had come in to contact with several notable people including Gustav Mahler and Franz Kafka. These experiences left a deep impact in Alice, who already showed a similar drive for music, culture, and education.
She began receiving piano lessons from her older sister and was encouraged greatly to pursue music as a career. She studied at the Prague German Conservatory of Music and became a successful concert pianist in 1930. A year later, she was married to Leopold Sommer and they had a son named Stephan. Alice continued playing all across Europe until her performances were stopped by the Nazis who didn't allow her to play publicly or teach, due to her Jewish heritage.
Featurette: The Lady in Number 6
Continued: About Alice Herz-Sommer
Many of her family and friends fled Prague, but Alice stayed and cared for her mother, Sophie, who was ill. Sophie was later arrested and killed, and, a year later, Alice and her family were sent to Theresienstadt together. Her husband, Leopold, however, was relocated to Auschwitz and then the Dachau concentration camp, where he died of illness a few weeks before the camp was liberated. Meanwhile, Alice and her son, Stephan, waited out their time in Theresienstadt, where Alice played many concerts along with other musicians for the prisoners and guards alike. Despite the harsh conditions surrounding the event, Alice expressed a certain happiness at being able to play music and lift the lives of the hungry and hopeless people there.
In 1945, Theresienstadt was liberated and Alice and her son, Stephan (who later changed his name to Raphael) moved back to Prague and later relocated to Isreal in order to be with her remaining family. In Israel, she worked as a music teacher at a music school while her son, Raphael became an accomplished cellist and conductor.
Alice moved to London in the 1980's and began her study and practice of the piano, playing 3 hours a day. Her son died in 2001 and left behind a widow and two sons, who visited Alice regularly along with other friends and family. She died just one week before the Oscar ceremony presented the documentary of her life, "The Lady in Number 6," in 2014 at the age of 110, making her the oldest Holocaust survivor.
The film has received many positive reviews, especially regarding the optimistic tone of the documentary. Instead of focusing on the horrors committed by the Nazis or the atrocities of the concentration camps, the film focuses on Alice's love of music and how the overcame adversity through the love of music. She was a proud supporter of music and believed that music is what kept her going through all her years.
Alice Herz-Sommer – Thoughts on Her Mental Attitude and Grace
Alice Herz-Sommer: Everything is a Present
Book About Alice Herz-Sommer
A Century of Wisdom: Lessons from the Life of Alice Herz-Somer, the World's Oldest Living Holocaust Survivor