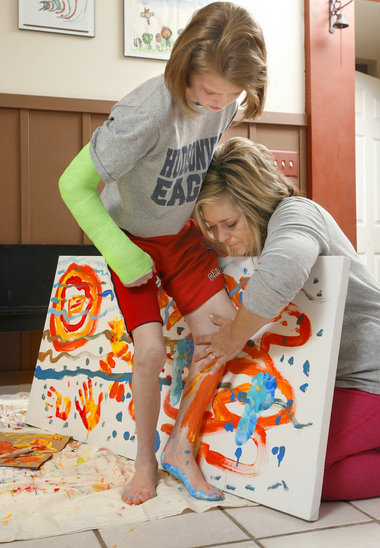 Photo by: Rex Larsen | The Grand Rapids Press
Before Alyssia Crook's leg was amputated, she was using it to paint. Covered in paint, and with the help of artist Angie Briggs Johnson, Alyssia used her left leg to paint on a canvas for an ArtPrize entry. Angie is using art as therapy, allowing Alyssia to express feelings in a way she maybe never imagined.
"The feet and knee imprints in the painting are butterflies telling me things are going to be OK," Crook said."I'll be sad inside when I see them, but I know it's going to be OK."
Alyssia's mom and Angie both said they noticed how art was helping Alyssia channel her feelings.
"I know it's time to move on and not look back. The foot is beautiful and this will show me that I have a beautiful leg forever," Alyssia said, looking at her masterpiece.
Alyssia Crook Leg Painting in Art Therapy
About Alyssia Crook
Alyssia Crook was born in Russia with defects in her legs that affected her arteries, nerves and cartilage. It's a rare congenital disease that some people believe is linked to Alyssia's biological mother being exposed to radiation from Chernobyl.
At 5 years old, Alyssia was adopted by family in Hudsonville. In middle school, doctors informed the 13-year old Alyssia that her leg problems were getting more serious. The doctors gave her two choices: 1) shorten her left and right leg by about 6 to 8 inches and be confined to a wheelchair or 2) remover her left leg. Alyssia decided to amputate her leg.
Alyssia did get to fulfill a dream of hers to play on her middle school basketball team before her leg was amputated. You can see footage her grandfather shot of the game here: