In our last post, Is Art Therapy a Good Career? An Outlook on Art Therapy, we apparently caused a bit of a stir among some people due to an image we posted along with that article.
After some misunderstandings we have removed the picture from that article. We have included it here in case you missed it: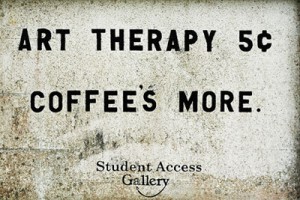 The picture is from a sign outside of a student art gallery. It was meant to be a humourous tongue-in-cheek image. While some people found the humour in this, others did not. In hindsight, this was probably not the best image choice.
We apologize if anyone was offended, as this was certainly not our intention. We invest a significant amount of our free time into this site and will be the first to admit that we're not perfect.
One lesson to take away from this – and it's not a new lesson – is that humour is a difficult thing to execute and may not always be perceived similarly by others. We try to have fun with this site and hope some of that fun does spill over to our readers. In this instance, we felt it spilled more the other way, and the humour was mostly lost. Therefore, we removed the image. Again, please accept our apologies if you were offended.
Thank you.