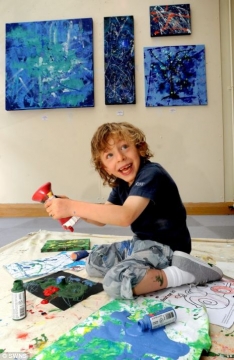 Photo via
metro.co.uk
File another story under our "Inspiring Others to Create" awards (coming soon). This time it's about a 5 year-old boy who's hanging on to life with a thread.
Leo Haines was born prematurely and the doctors didn't think he would survive 9 times in the last 5 years. However, creating art and painting has changed his life.
Even though Leo needs oxygen and drugs constantly because of pulmonary vein stenosis, and even though he has various cerebral palsy symptoms, around the age of 2 things began looking up for him and his family.
Little Leo took after his grandmother and began painting. And he LOVED it. He's been doing it ever since and has built up quite the fan base. He's even sold his art to help raise money for the hospital that took care of him when he was a baby.
Because of art therapy and sign language, Leo and his family are making the best of their seemingly short time together.
Read more about this inspiring story here.
And thanks Leo, for inspiring others to create.