Update: After a few days, Stephen has made amazing progress…and don't forget, he's drawing this from memory and only a 20 minute helicopter ride to recall.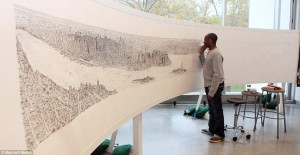 **Watch Stephen draw New York City live this week.
Stephen Wiltshire was mute and diagnosed with autism at the age of three. His dad died the same year. When he was 5, he moved to London where his interest in drawing began and eventually blossomed. Wiltshire slowly began talking when he was about 9 years old.
Wiltshire (pictured left) continued drawing and would eventually be the subject of various documentaries, television shows, books, and even come out with 4 books of his own…including one that made the Sunday Times best-seller list.
Most recently, Stephen Wiltshire has been recognized for drawing entire cityscapes from essentially a glimpse of the city. In 2005 Stephen drew the entire city of Tokyo on a 10-meter long canvas. However, he did it from memory after a brief helicopter ride over the city. He didn't get to refer back to any pictures later, he drew it all from memory. He's even known for getting the exact number of columns correct, and I believe even the exact number of windows on buildings. Pretty amazing huh? I can't even remember what I did yesterday, let alone how many windows are even on my house. And yet Stephen can take one helicopter ride around a city and draw it to near perfection. Simply amazing. Learn more about Stephen Wiltshire below and at his website: www.stephenwiltshire.co.uk.
Stephen Wiltshire Drawing London From Memory

In addition to Tokyo, Stephen has drawn Dubai, Frankfurt, Hong Kong, Jerusalem, London, Madrid, Rome, and most recently New York. As was recently reported, Stephen took on his biggest drawing yet, New York City.
Stephen Wiltshire Drawing New York City From Memory
Watch him draw live during the week.
And here's an early update from the drawing:
You can also find many more images from his gallery here:
http://www.stephenwiltshire.co.uk/gallery.aspx
Stephen Wiltshire Drawing Tokyo From Memory
Check out the full panorama of Tokyo here:
http://stephenwiltshire.co.uk/Tokyo_Panorama_by_Stephen_Wiltshire.aspx


Stephen Wiltshire Drawing Hong Kong From Memory