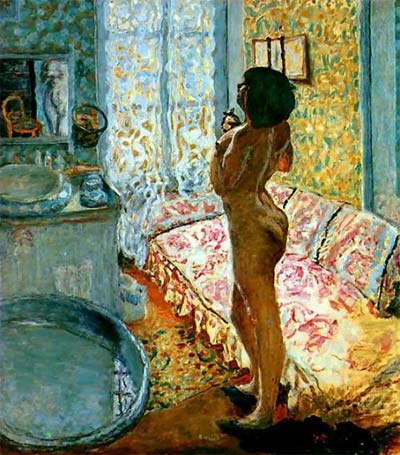 Pierre Bonnard – Model in Backlight
Here's a great art quote by Pierre Bonnard that speaks to the therapeutic nature of art.
"Painting has to get back to its original goal, examining the inner lives of human beings."
Painting, and art in general, is often a reflection of the lives of people. Sometimes the reflection represents the lives of the people in the artwork and sometimes it represents the life of the artist. Examining art and what it represents is nothing new. Art therapy expands on this concept to examine the life of the artist.
About Pierre Bonnard
Pierre Bonnard was a French painter and printmaker, born on October 3, 1867. He was the son of a prominent official of the French Ministry of War. Bonnard studied law but attended art classes on the side.
In his 20's Bonnard joined a group of young artists that were committed to creating symbolic and spiritual artwork. He is known for his intense use of colors, especially with small brushmarks and close values. His art is often narrative and autobiographical containing sunlit interiors with friends and family.
You can read more about Pierre Bonnard and see more of his work here:
Art Institute of Chicago – Images of his work.
Wikipedia – More information about Pierre Bonnard and some of his work.
Fine Arts Museum of San Francisco – Images of Pierre Bonnard's work.